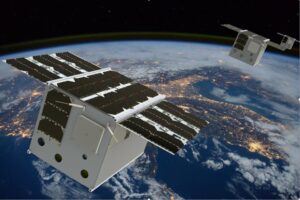 Paris, 8 December 2021. – The space system startup GomSpace and the European Space Agency (ESA) have signed a contract for the ESA SCOUT Earth Observation mission to be launched in 2024. The contract value is € 24 million, GomSpace said, with a direct revenue share of € 7 million for GomSpace.
The mission will consist of three 12U cubesats and will become the first "climate mission" of its kind, GomSpace said. It aims to understand and quantify processes in the tropical upper troposphere and stratosphere, study its variability and contribute to trends analysis in its composition and its effects on climate and vice-versa, the Nasdaq-listed Swedish startup said.
The mission will be executed in collaboration with Science and Technology Facilities Council's RAL Space in the UK who will provide the scientific instruments, and Enpulsion who will provide the propulsion solution for the mission, GomSpace added.