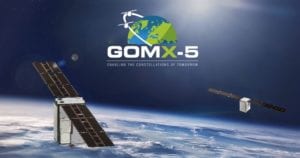 In December 2018, GomSpace signed a development contract with ESA for the initiation of a new GOMX-5 satellite mission. The purpose of the mission is to demonstrate new nanosatellite capabilities for the next generation of constellations requiring high-speed communications links and high levels of manoeuvrability.
The GOMX-5 mission will consist of two 12U nanosatellites in the 20kg class with an improved platform for increased power handling and reliability. The satellites will be equipped with a number of advanced payloads and these have now been confirmed as:
ThrustMe (FR), ExoTrails (FR) and GomSpace Sweden (SE) for propulsions
Ticra (DK) is developing two X-Band high gain reflect array antennas
EICAS (IT) with miniaturized and improved star trackers
Deimos (UK) and GMV (PL) with high accuracy GNSS receivers
Cobham Gaisler AB (SE) and LIRMM (FR) with powerful and radiation tolerant on-board computers
Surrey Space Centre (UK) and the Czech Technical University (CZ) with state-of-the-art radiation monitors
Tartu Observatory (EE) with a lightweight Earth observation imager
AIKO (IT), bringing artificial intelligence on spacecraft
GomSpace (DK) with KaBand InterSatellite Link
The present contract between GomSpace and ESA covers design and specification work planned for 2019, and it is expected to be followed by additional contracts for the subsequent implementation.
The launch for the GOMX-5 mission is expected to be in 2021, which is subject to further funding.