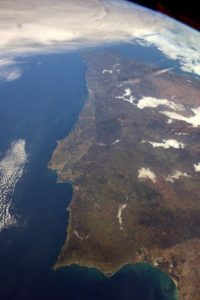 Portugal has become the latest country to establish a national space agency. The new entity, called Portugal Space, will be headquartered in the Azores island of Santa Maria, the site of a proposed spaceport and a European Space Agency (ESA) Estrack tracking and telemetry station.
Portugal Space was formally established on 18 March 2019 at a signing ceremony in the Azores capital city of Ponta Delgada attended by the Portuguese Council of Ministers. The Azores are an archipelago of Portuguese islands in mid-North Atlantic Ocean west of the Portuguese mainland on the Iberian Peninsula.
Portugal Space is in the process of establishing a spaceport on Santa Maria island with the aim of launching small satellites into low-Earth orbit by 2021.
Portuguese Minister for Science, Technology, and Higher Education, Manuel Heitor, has written in a key space policy document that, "The Azores has a particularly suitable geo-strategic position to consider the installation and operation of a space infrastructure for launching satellites."
The proposed spaceport is, "as close to continental Europe as it is to the American continent and with a large oceanic coverage of more than 1,500 kilometers in any direction, [Santa Maria] offers absolutely unique advantages for the promotion and development of the 'New Space,' particularly through the ongoing reinforcement of satellite monitoring infrastructures (i.e., antennas) and, mainly, the installation of new satellite launch services," Heitor added in the report, Portugal Space 2030.
Santa Maria island is also the location of the Montes das Flores (Portuguese for Mountain of Flowers) ESA tracking station, one of ten ESA facilities located around the world. The Montes das Flores tracking station consists of a 5.5 metre telescope designed to track launches and transmit telemetry data from the Guiana Space Centre in French Guiana, Latin America.
Prior to the establishment of Portugal Space, Portuguese space policy and activity came under the purview of the Fundação para a Ciência e a Tecnologia (FCT), the governmental funding agency for national science and technology research and science in Portugal. The newly created Portugal Space will take over most of the functions of the FCT regarding Portuguese space activities, as well as take over as the point of contact for all dealings with ESA and other international partners.
The Portugal Space spaceport initiative includes the construction of a satellite launch vehicle as well as the possibility of allowing commercial launch partners to also operate from the facility, to include possible operations by Virgin Galactic and Sierra Nevada for space tourism flights.