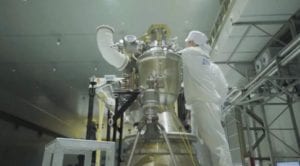 Private Chinese company, LandSpace, has successfully tested an oxygen-methane engine. Called TQ-12, the 80-tonne thrust engine completed the 20-second test and has the third highest thrust level in comparison with the same engine type, in the world.
Using gas that is readily available, the engine is low cost and also green and reusable. This is a significant development and places China at the cutting edge of this new type of environmentally friendly technology. According to LandSpace, the engine may be used for a variety of different sizes of engine from small to heavy. It follows in the footsteps of SpaceX's Raptor and Blue Origin's BE-4 oxygen-methane launch vehicles.
LandSpace is a start-up company based in Beijing and with a test facility in Huzhou, Zhejiang province. According to the company, four tests were conducted and all were successful.
It is expected that production of the new TQ-12 engine will be initiated later in 2019 at the extensive LandSpace facility in Huzhou. This was confirmed by Zhang Changwu, founder and CEO of LandSpace who gave more details, saying that around 15 ZQ 2 rockets and 200 TQ-12 engines will be produced beginning in 2022 and the maiden flight of the ZQ 2, that the engines will power, will happen in 2020.
Though LandSpace failed in its initial bid to launch a satellite last October due to a malfunction during the flight, the firm now wants to focus on the development of its ZQ 2 rocket which will have a height of 48.8 metres, a diameter of 3.35 metres and a liftoff weight of 216 metric tonnes. It will lift 1.8 tonnes of payload into sun-synchronous orbit or 4 tonnes into Low Earth Orbit.