The European Space Agency's (ESA) Political Affairs Office plays an integral and varied role in the organisation. Torsten Kriening was lucky enough to spend some time with Christina Giannopapa, Head of Political Affairs Office, Office Strategy Department, Director General's Services, ESA, to find out more about her role and the intersection of political affairs and space.
Can you tell us more about your role?
The Political Affairs Office is within the Strategy Department of the Director General's services. In the Strategy Department we have many different types of activities. We provide support for the Member States and we also consider education a very important strategic topic and we are also very focused on preparing the next generation of the space industry.
The Political Affairs Office advises the Director General and works with him in terms of approaching political matters that take place in space. We are responsible for relations with politicians and parliaments in particular, and also engaged with thematic topics such as security or looking into engagement of collaboration with universities. We also look into alternative ways to see how we can transform the space sector overall.
What are the current hot topics that your department is working on at the moment?
In ESA we have 22 Member States and these states have certain common interests such as the benefit of the competitiveness of the space sector and the benefit to their society and economy overall. However, at the same time, they often have different requirements and divergent ways in which they go about meeting those requirements. There are a variety of interests, expertise and expectations that are held by the states.  At ESA, we hold our Ministerial Council every three to four years in order to showcase to the Ministers potential future projects that they may wish to finance so we try to maintain a very close relationship with our Member States and organise visits every year with every single member state. We bring the Ministers and the industrial representatives and the academic representatives together. Our Director General makes a very big effort to talk to all Member States in order to understand better their needs and to transform the agency accordingly.
With 22 Members States this must be a big task. How big is your team?
The department has around four offices with a number of people and the Chief Strategy Officer leads this department. The important thing to note is that the strategy cannot be executed in isolation and political affairs and relations can also not be conducted in isolation. Therefore, we have to draw the expertise we need from the entire agency. If our Director General is going to engage with one or another member state, then we need to know broadly from the Agency what our colleagues understand of specific situations and what our important points are to bring forward.
You speak about space as an enabler – what do you mean by this and what does it mean for you?
In the past, space was for very few governments, very few actors and for very few thematic topics. But now space is everywhere, it's around us and part of our everyday life. It is a tool that enables our socio-economic growth and enables our entrepreneurs to do things that they could not do before because of the connectivity that space provides as an infrastructure. Space is also a higher point where you have the capability to look down and you can create a lot of different applications that can help businesses. It therefore enables socio-economic growth because it can respond to global challenges such as water security, food security and stimulating better economic prosperity for countries. It is an enabler for socio-economic growth, for entrepreneurs, for scientific and technological advancement as it is a remote and harsh environment where we cannot go to fix something if it breaks. It therefore pushes technology and borders beyond what we can do. We should also not forget that space inspires and motivates the next generations and that is very important.
What is ESA doing to support the next generation?
ESA is engaging in a number of ways. We consider that we have to play the role of the ambassador in preparing the next generation. Space is exciting! Within our Strategy Department we have what is called the ESA Academy and we also engage with educating the educators so we provide and prepare material for schools. We also give the opportunity for university students to launch small satellites and for the younger ones to see how everything works by giving them the means and the opportunity to see and experience it. We also have our astronauts who are fantastic ambassadors to promote space.
Let's talk about the changing role of ESA in the future. Is ESA prepared for the new global realities and new space agencies in various countries such as Turkey, and the Philippines? We have around 80 plus agencies now. Are you welcoming them?
Space is beyond borders. It is important to have and to find appropriate structures and entities that can promote and facilitate the needs of a country and there are different ways you can do that. You can have dedicated offices in a ministry or have a separate space agency. There are many different ways and no one-size-fits-all. If we look at Europe today, there is a big difference between a space agency from a large Member State and a small Member State. What is important is that they facilitate the needs of a country and respond to that. It is essential to network between these entities so they can exchange and learn from each other and to tailor their needs in space policies so that it is right for the citizens they are working for.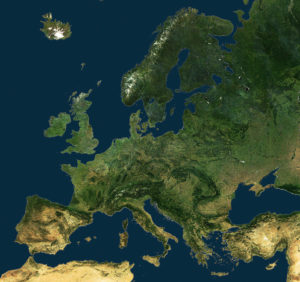 How strict is ESA with taking just European Members? Canada is an Associate Member. Can agencies outside Europe also apply to be members?
What ESA can do is based on the ESA convention. ESA was created around 50 years ago, as an intergovernmental organisation, in order to support the development of space in Europe. With Canada we have special relations and the function or the engagement of other space agencies is decided by our Member States. It's a matter of what they want and what their vision is for the future of the agency. We are an instrument of the Member States.
So if Australia knocks on your door and wants to be part of ESA, they could theoretically become a member of ESA?
They have been involved before with some activities and we have got partnerships with other agencies as well. It is not a simple answer to give. It's a matter of how the ESA Members States would want to engage.
How do you engage with new commercial players?
We are trying, at different levels within the agency, to engage and understand what industry wants and to follow the trends that are happening. We have activities such as a High Level Forum where we engage with the industry and we also carry out bilateral industry meetings to find out what they need. We make industrial visits and we also visit companies that may not necessarily have a direct link to ESA. One example is the Netherlands where we went to visit ASML, a company that provides semiconductor components, which is not necessarily doing business directly with the space agency but we are trying to understand what their needs are and how we can best serve the sector in related industries.
How will ESA develop its own role in the next decade?
Our Director General always says that he dreamt of a United States of Europe when he was a kid and since we are far from that today he dreams of united space in Europe. ESA has been collaborating with all other agencies and has been building on behalf of the European Union its two flagship programs. We have Galileo, which is a fantastic system with many capabilities and we also have been building Copernicus which in the future will be the most comprehensive system in the world. We are also working for other organisations such as EUMETSAT.
With the EU, we have created the Joint Statement which sets out the high-level goals that we want to see achieved over the decades to come and defines the elements which will make a competitive European space industry, bringing space into society and also ensuring that we have a European economy that is using space in a safe and secure environment. We are working together in order to do our best for the future of Europe in space.
What excites you about space?
I come from the non-space sector. I am an engineer and I have worked in different types of hi-tech industries such as the food industry, micro-electronics, biotechnology, and as I said, space is everywhere. It is part of our everyday life and everything we do from the moment we wake up to the evening when we go to bed. People don't necessarily realise this but it is exciting and opens up endless possibilities of how we can imagine the future. So this is what I find fascinating about space.