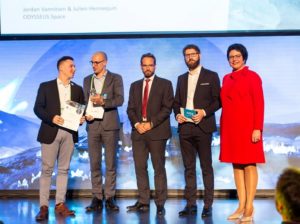 Taiwanese New Space company Odysseus is set to relocate to Luxembourg from its home base in Tainan, Taiwan, after winning a U.S.$570,000 prize from the Luxembourg Space Agency, following the company's first-place finish in the European Space Agency's (ESA) Space Resources Challenge.
Founded in southern Taiwan by a team of scholars and engineers, Odysseus develops technology and plans for deep space missions and small satellite operations.
The firm's win in the Space Resources Challenge was recognized at the ESA Inspiration Conference on 30 October 2018 in Bilbao, Spain. According to a report in Taiwan News, the focus of the Space Resources Challenge was to recognize the work of firms which are committed to developing "the best business ideas for space exploration that also benefit society."
In addition to the monetary award, the Luxembourg Space Agency also invited Odysseus to join an ecosystem of over 50 firms developing space-related technologies in Luxembourg. Taiwan News reports that, according to Luxembourg news site Delano, Odysseus Space has accepted the offer and will be transferring their operation from Tainan to Europe.
"It was truly inspiring to see so many people from different ages and backgrounds keenly working on technologies and solutions to make space resources utilization possible. But there could only be one winning team," said Marc Serres, CEO of the Luxembourg Space Agency. " We are looking forward to supporting Odysseus' developments in autonomous operations and optical communications to enable space resources missions for the benefit of humankind."
Odysseus was founded in 2016 by professionals from Europe and Asia with experience in space exploration and satellite technologies. It partnered with Taiwan's National Cheng Kung University, which provided "access to its latest research and development facilities and expertise in small satellites" to assist in the firm's growth and research capabilities.