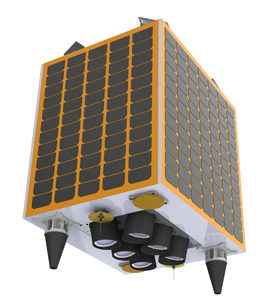 Two Kazakh satellites are due to be launched on board a SpaceX Falcon 9 satellite launch vehicle from Vandenberg Air Force Base on 19 November 2018, marking further milestone's for Kazakhstan's independent space capabilities.
The first satellite, KazSTSAT, is a remote sensing capability built by UK satellite manufacturer Surrey Satellite Technology Ltd. (SSTL) for Kazakh company Ghalam LLP, as part of a contract signed in 2013.
KazSTSAT has a camera with 22 metres resolution and a swathe of 600 kilometres for global wide-area remote sensing. KazSTSAT uses the new SSTL-X50 Earthmapper variant that combines a large volume of data storage, enhanced power generation capacity, and high downlink availability to continuously image the sunlit land mass making it particularly suited to applications requiring a high temporal revisit rate, such as agricultural and flood monitoring, water quality assessment, forest monitoring, and disaster management.
Under a joint development programme 14 Kazakh engineers have worked alongside SSTL engineers to design and build the KazSTSAT spacecraft. In addition to the SLIM-6 imager, KazSTSAT will fly a number of Ghalam LLP developed payloads, and will join the Disaster Monitoring Constellation (DMC), which provides daily images for applications including global disaster monitoring. Environmental testing will take place at a new Ghalam LLP test facility established in Astana, Kazakhstan.
KazSTSAT was originally supposed to be launched on board a Russian Dnepr launch vehicle in 2017, but that launch vehicle was removed from operations and so the payload was moved to the upcoming SpaceX launch in California.
The second payload is also a Ghalam LLP satellite called KazSciSat-1, a 3U CubeSat with a magnetometer on board that will measure Earth's magnetic field for Kazakh scientists involved in Earth sciences and geophysics.
Another satellite, the Al-Farabi-2 3U CubeSat built by students at the Al-Farabi Kazakh National University for educational purposes, was also supposed to be launched on the 19 November SpaceX launch but has been removed from the manifest for reasons yet unknown.
Marat Nurgozhin, the Kazakh Vice Minister of Defence and Aerospace Industry resently spoke of the upcoming launch at a conference in Astana, Kazakhstan, saying, "More than 150 engineers were trained at factories in Europe, England and Russia. They work in Kazakhstan, and we created our third space system of scientific and technological importance. If all goes well, on November 19 we will launch two satellites in California on a Falcon 9 launch vehicle."
"The inventions will get flight history and allow to commercialize and create our own satellites here. First of all, those are replacement communication satellites, which will replace the existing devices,' he said.
"Our institutes are developing a lot of serious devices that allow the use of space technologies on Earth – space communications and satellite navigation. This year we are completing the construction of an assembly and test complex for spacecraft weighing up to 6 tons. Last year we introduced a special design and technology bureau," Nurgozhin added.