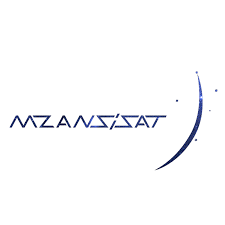 MzansiSat, a New Space satellite broadband company located in Stellenbosch, South Africa, is looking to launch and operate its own Geostationary orbit communications satellite, to be called MzansiSat-1, by 2022 in order to provide low-cost satellite broadband Internet across Africa in what its Chief Operating Officer, Victor Stephanopoli, calls a "patchy" telecommunications sector on the continent.
In an interview with online publication ITNewsAfrica.com, Stephanopoli said that MzansiSat-1 is to provide satellite broadband Internet services using the C- and Ku-bands instead of Ka-band in order to leverage savings on the required ground infrastructure and pass those lower costs on to customers.
"Unlike Ka-band Satellite technology, we are using a technology that beams only ONE static beam as a technical footprint, not several small ones, that need more default ground infrastructure (at least one per beam), also we do not suffer from risk of rain fade and losing links…Also, it shall be noted that a number of Ka-band licence holders fail to generate substantial profits, because of their high distribution prices, tacked on top of already high operating costs," said Stephanopoli.
"Furthermore, our ground infrastructure needed to link up to our satellite, once it's launched is very cheap compared to comparable companies and operators. In many cases existing satellite dish infrastructure can be used to link up to our network," he added.
In the interview it is intimated that MzansiSat is experiencing delays in receiving South African governmental regulatory and licensing approvals in going ahead with the MzansiSat-1 build. Stephanopoli did not provide any details about prospective manufacturers and launch providers for MzansiSat-1, but did offer that the design calls for 16 Megabytes-per-second downlink rates with some latency issues.
"There's some latency in the range of 500-900ms, but I think in areas where you have the choice between a connection with latency and no connection at all, it is a no-brainer. If people do not like it they can walk down the road to the next coffee shop… If it has an internet connection… or if there even is one," said Stephanopoli.
MzansiSat intends to focus on providing satellite broadband Internet in remote and rural parts of Africa, according to Stephanopoli, who said that "things become more interesting when you walk away from the beaten track and you venture into the countryside; this is where our core market is."
"We can work together with companies…to roll out service in even the most remote areas of the continent, by allowing local ground-segments linking to our satellites to feed into communal networks, be them 5G or Wi-Fi, the possibilities are endless. We also can support operators to supply simple 2G networks where they want," Stephanopoli said.
As for African Internet Service Providers (ISP's), Stephanopoli believes that that MzansiSat can provide affordable service – something of a challenge for ISP's in the African market.
"[E]verybody sees a market and I have stopped counting how many ISP's there are in Africa. It's very confusing to say the least. All of them – be it the local cooperative or the international juggernaut however, struggle with the same challenge these days: Getting access to reasonably affordable bandwidth – and not just that; In order to enable growth you have to push the limits, and in our (the African) case we have to push further the areas in which internet is available. So we have the geography issue, a much-segmented market and let's add the cherry on top of the cake: speed," he added.
Stephanopoli concluded his interview by saying that, "…something we're already planning, for when we're online, are services and products and sustainable investments based on our infrastructure to empower South Africans and communities to use the internet and to break down the #DigitalDivide."