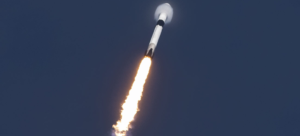 SpaceX successfully launched the Es'hail-2 satellite for Qatar's Es'hailsat on Thursday, 15 November 2018, from Launch Complex 39A at NASA's Kennedy Space Centre in Florida, United States. Liftoff occurred at 3:46 p.m. EST, or 20:46 UTC, and the satellite was deployed to a geostationary transfer orbit (GTO) about 32 minutes after launch.
The Falcon 9's first stage for the Es'hail-2 mission previously launched the Telstar-19 VANTAGE mission in July 2018. Following stage separation, SpaceX landed Falcon 9's first stage on the "Of Course I Still Love You" droneship, stationed in the Atlantic Ocean.
The Es'hail-2 satellite is based on the Japanese satellite manufacturer Mitsubishi Electric Corporation's (MELCO) DS 2000 satellite bus, a proven, modular platform with high power capability and flexibility for a broad range of applications.
In addition to offering Ku-band resources to support the growing 25.50E/26.0°E broadcast neighbourhood, Es'hail-2 also features multi-transponder Ka-band capacity, providing business and government sectors with secure communications across the Middle East and North Africa region. In partnership with leading service providers, Es'hailSat will offer a portfolio of broadcast and Very Small Aperture Terminal (VSAT) services to support business growth.
The spacecraft's multi-mission architecture will enable Es'hailSat to respond to demand for the fastest-growing applications in the Middle East and North Africa, including content transfer, broadcast distribution, enterprise communications, and government services.
Es'hail-2 is the Qatari company's second satellite, following the 2013 launch of Es'hail-1 on an Arianespace Ariane 5 launch vehicle. Though Es'hailSat originally shared the Es'hail-1 satellite with commercial satellite communications operator Eutelsat, headquartered in Paris, Es'hailsat purchased Eutelsat's share for 135 million Euros (U.S.$156.1 million) in August 2018.