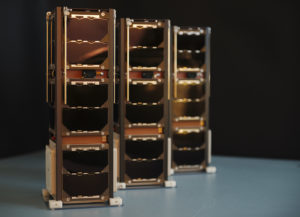 Sky and Space Global, the Australian New Space narrowband satellite communications company, are making significant inroads in the African and Brazilian communications markets by participating in the AfriCom conference in South Africa and signing MoU's with two Brazilian telecommunications companies.
The AfricaCom conference, held in Cape Town, was attended by all major players in the African telecommunications market and the event is designed to propel the African communications market by connecting infrastructure providers, disruptive technologies, and strategists.
As part of SAS' event agenda, the SAS Executive team showcased the capabilities of SAS' pioneering 3 Diamonds nanosatellites network for live voice calls and instant messaging. During the conference, the team presented to potential African telecommunications customers, attended panel discussions, and gave presentations to a number of African based telecommunications providers.
Africa represents a key market for SAS' growth and offers a huge opportunity to partner with strategic telecommunications suppliers to provide improved connectivity to 1.2 billion Africans.
In support of its business model and growth strategy, the company is now building new relationships with a number of leading African telecommunications companies, which it expects to transform into formal testing and bespoke demonstration agreements in due course, and in the future hoping to be converted into commercial offtake contracts.
Nanosatellite narrowband services across the African region will be provided by the Pearls constellation once deployment commences in 2019.
With regard to the Brazilian market, SAS has formally signed two binding MoU agreements with AltaRede Corporation (AltaRede) and Inovsat Telecom (Inovsat), both telecom and connectivity providers based in Rio de Janeiro.
AltaRede and Inovsat Telecom provide communication and connectivity services, via satellite to commercial customers in remote regions with little or no telecommunications infrastructure. They collectively serve the industrial, government, construction, mining, and healthcare industries both on and offshore.
Under the terms of the agreements, SAS will collaborate with the respective companies to explore and test how SAS' proprietary connectivity network can be incorporated into Inovsat and AltaRede's service offering to increase its reliability, accessibility and affordability. Testing has commenced using the 3 Diamonds nanosatellites and is expected to complete Q1 2019.
The company expects both MoU agreements to be transformed into definitive agreements with commercial terms following the launch of the first batch of Pearls in 2019.
Meanwhile, management continues to focus its resources on building and maintaining its relationships in the South American region to ensure SAS has the ability to leverage its local knowledge and secure further agreements of this kind.
The signing of these agreements represents a significant landmark for the company as the Brazilian market equates to 200 million people, all located within the equatorial region and with limited access to affordable connectivity services. This represents a significant revenue generating opportunity for SAS.
Additionally, securing these agreements supports the business model of supplying easily accessible, reliable and affordable connectivity to the equatorial region and becoming a leading player in the nanosatellite market with a global footprint.
"Having signed a further two binding MoU agreements in South America we are seeing the results of our hard work. We are working extremely hard to build our global presence and our goal is to have a foot in the door in every country within the equatorial region," said Meir Moalem, the Chief Executive Officer of SAS.
"It is a key priority for us to build as many relationships, sign as many agreements and demonstrate our capabilities to as many telecommunications providers globally, to guarantee a running start to commercialisation once the first batch of Pearls is launched," he added.