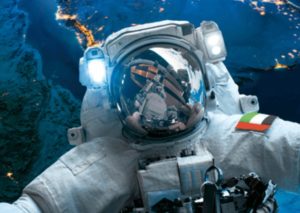 The UAE Space Agency will continue selecting astronaut candidates in order to create a national astronaut cadre with the aim of sending Emiratis in to orbit annually, Dr. Mohammed Al Ahbabi, the Director General of the agency, said in an interview with Russian news outlet Sputnik.
"The UAE has a long-term space exploration programme. We can train astronauts, and they will be sent to orbit annually. We plan to select two more astronauts in addition to the four astronauts that we have already selected, so that we have our own astronaut team, like major global space agencies have," Dr. Al Ahbabi said.
He went on to say that during the national selection competition, nine people had been selected out of 4,000 candidates and included on a short list.
"Some of the people included in this list can be selected to take part in other space flights," Dr. Al Ahbabi said.
Dr. Al Ahbabi also said that there were currently no plans for the first UAE astronaut to be sent to the International Space Station (ISS) will do a spacewalk, however, it could happen during a future Emirati mission.
"No, there are no such plans [for going into outer space]. Of course, astronauts do spacewalks from the ISS, it is possible, but for now we are sending the first astronaut [to the ISS]. Perhaps in the distant future," Dr. Al Ahbabi commented.
Dr. Al Ahbabi also noted that the UAE Space Agency was currently preparing its astronaut for a 10-day stay on the ISS, as carrying out a longer human spaceflight mission would depend on certain conditions.
"When a long-duration expedition of the UAE astronaut will take place depends on the development of world astronautics, of the means of delivering them to orbit. We approach the implementation of our space program very carefully, gradually, and we are calculating our abilities to implement projects," Dr. Al Ahbabi said.
In July 2018, nine Emirati candidates arrived in Russia for medical tests and simulation training before returning to the UAE. In September 2018, two of the candidates, Hazza Al Mansouri and Sultan Al Neyadi, began their advanced astronaut training on the outskirts of Moscow.
In April 2019, one of them will be sent to the ISS, making them the first ever Emirati to go to space and to the space station.
A source in Russia's state space corporation, Roscosmos, told Sputnik in April 2018 that the two countries were also considering a month-long ISS mission for one of the UAE astronauts after the first mission is completed.
Roscosmos is also believed to be holding talks with Saudi Arabia and Bahrain about training their astronaut candidates for missions to the ISS.
Russian News Agency TASS quoted Dmitry Loskutov, head of the Roscosmos international cooperation department, on the sidelines of the Bahrain International Airshow. Loskutov said that an offer of training had been made to the two Gulf countries.
"We would like to offer our training services to Saudi Arabia and Bahrain. We have presented our proposals and now those countries are considering their options," he said.
If the TASS story is confirmed, Russia will have cornered the human spaceflight ambitions of major Gulf countries.