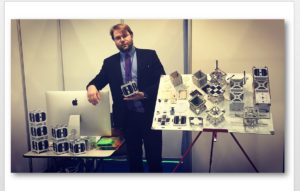 The Saint-Petersburg-based lab Astronomikon has grown out of a student nanosatellite project. Its founder and CEO Denis Malygin entered the space industry with a background in robotics engineering. He participated in the Tempus-CRIST international project and studied at TU Berlin. Following his return to Russia, Malygin assembled an engineering team spanning Saint Petersburg's leading technical universities. Before long the lab, initially a humble student initiative, morphed into LLC 'Laboratory 'Astronomikon'.
SpaceWatch Russia and CIS editor Dmitry Oliferovich chatted with Denis about his lab's innovations, the challenges space startups face in Russia and more.
You design and build smallsats. Tell us, please, about your innovative Synergy platform.
We used the CubeSat format as the basis and came up with our own vision of the smallsat format as consisting of basic building blocks sized 100х100х100 each. You can add extra standardized modules, hardware, and structural elements depending on the mission. In other words, a satellite is assembled much like a Lego set, with each system on the platform being marketable as a separate product (including a communications device, a single board computer, an electric and actuator drive board etc.). This helps facilitate the adaptation of the spacecraft to specific requirements of science experiments.
Do you manufacture your own CubeSat structures and hardware components?
If it is a single prototype, we manufacture it ourselves. If we get a small order, we seek help from our partners as there is a certain level of quality control involved.
Right now we are partnered with Texas Instruments, Microchip, Aeroflex and 20-30 other companies. Talking about our Russian partners, it is Milandr, NIIET (Scientific Research Institute of Electronics), Elvis.
Are you happy with the order volumes? What is your customer attraction strategy?
We don't typically get that many orders. It's mostly test racks for testing various smallsat technology-related solutions. The main challenge the companies in the CubeSat and smallsat business face in Russia is a lack of general understanding of their potential. People seem ignorant of the fact that this type of satellite is not just about student DIY projects, but has the potential for practical application, can be commercialized and used as an efficient tool in scientific research.
We usually find new customers at various forum events, international aerospace shows, and specialized exhibitions. We also take part in various science conferences. We publish popular science and technology articles and papers in peer-reviewed journals. We are also part of a consortium ('The Samara Consortium Dedicated to the Formation of Satellite Constellation for Earth's Geomagnetic Field Research') and various technological platforms (for example, 'The National Information Satellite Platform').
What are some of the challenges you face doing business in Russia?
There is basically no such thing as private space business in Russia. There are a few companies on the market that are trying to change this situation, though. If a company contemplates stepping into commercial space in this country, it will have to design and build all of the necessary components itself or buy them at rip-off prices either in Russia (as there is no real market competition for them here), or abroad. To further complicate the things, the company will have to have all of its products certified and get through a massive number of audits, obtain a GOST quality certificate of the Russian certification system and also get a license. There is a lot of multi-tiered red tape involved.
What do you think is your lab's potential on the international market? Do you regard going international as something inevitable for you?
Right now we're developing a new product, which is a single-board computer solution with in-built AI for manipulating any robotics, or, more precisely, mechatronic device. The computer runs on two nine-core CPUs. Should one CPU fail, the other one will do the double duty. Both CPUs can be activated for a resource-intensive task. Up to four cameras can be connected to each CPU. Thus we solve the problem of high-quality machine vision. It is good enough even for making panoramic imagery.
We have also developed a soft defined radio (SDR) transceiver solution for telecommunication systems in the range of 30 MHz to 6 GHz.
We'd be happy to go international, but we need to find an investor first. Business angels, a key element of private entrepreneurship, are sadly missing in Russia. Basically, the only efficient funding in this country comes from the Bortnik Fund or The Foundation for Small Business Support in the Science and Technology Sphere (FASIE). It provides valuable non-repayable financial support of 0.5 to 5 million rubles (7500 to 75000 US dollars) to commercial science projects. Higher investment is also possible, but you would have to find a co-investor for that, which is a kind of vicious circle.
How important are student smallsat projects at technical universities as a future investment?  
It's one of the key points in both professional training and innovations. If we look at other nations, these programs are considered a priority there. In Russia, the Samara center has large experience and a lot of projects under its belt (such as the satellite building lab, the summer school, etc.). Moscow Aviation Institute (MAI), the Bauman Moscow State Technical University as well as the Siberian State Aerospace University also play an important role in this.
I think we should move away from building standalone technology demonstration satellites by universities to implementing complex smallsat-based projects. This should help to actively involve economic and fundamental science universities as well in this type of endeavors.
Our company is happy to collaborate with university students, young scientists and researchers by helping select a research topic and win grant support. All they have to do is contact us at [email protected]