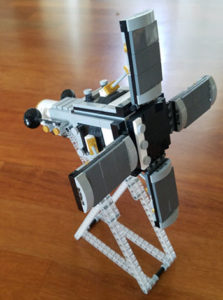 Amazon Web Services (AWS), a pioneer in cloud computing that has revolutionized entire economic sectors around the world, has entered the space and satellite market with the introduction of its Ground Station concept that is, in essence, a ground station as-a-service product for the global market.
The AWS Ground Station concept is designed to address the cost issues of building, operating, and maintaining in-house ground stations as well as to disrupt current contracting models that lock-in users who do not own ground stations in long-term, expensive agreements. The AWS Ground Station service also includes options for data streaming, processing, analytics, and storage through a range of Amazon cloud services, many of which utilise machine learning (a form of Artificial Intelligence – AI), thus providing prospective clients with cost-efficient data services as well.
"All of these satellites collect a lot of data, and that's where things get even more interesting. While it is now relatively cheap to get a satellite into Low Earth Orbit (LEO) or Medium Earth Orbit (MEO) and only slightly more expensive to achieve a more distant Geostationary Orbit, getting that data back to Earth is still more difficult than it should be. Large-scale satellite operators often build and run their own ground stations at a cost of up to one million dollars or more each; smaller operators enter into inflexible long-term contracts to make use of existing ground stations," wrote Jeff Barr, a Chief Evangelist for AWS on his in-company blog.
"Instead of building your own ground station or entering in to a long-term contract, you can make use of AWS Ground Station on an as-needed, pay-as-you-go basis. You can get access to a ground station on short notice in order to handle a special event: severe weather, a natural disaster, or something more positive such as a sporting event. If you need access to a ground station on a regular basis to capture Earth observations or distribute content world-wide, you can reserve capacity ahead of time and pay even less. AWS Ground Station is a fully managed service. You don't need to build or maintain antennas, and can focus on your work or research," says Barr.
"We're starting out with a pair of ground stations today, and will have 12 in operation by mid-2019. Each ground station is associated with a particular AWS Region; the raw analog data from the satellite is processed by our modem digitizer into a data stream (in what is formally known as VITA 49 baseband or VITA 49 RF over IP data streams) and routed to an EC2 [Amazon Elastic Compute Cloud] instance that is responsible for doing the signal processing to turn it into a byte stream," he added.
Once the satellite data is downlinked AWS offers clients a range of streaming, processing, analytic, and storage options. For data streaming, Amazon Kinesis Data Streams can capture, process, and store data streams; for data processing there is Amazon Rekognition for imagery analysis, and Amazon SageMaker to build, train, and deploy machine laerning models; for data analytics and reporting there is Amazon Redshift for the storage of data in structured data warehouse form, and Amazon Athena and Amazon QuickSight for data queries; and, for data storage, Amazon Simple Storage Service (S3) to store data in object form, and Amazon Glacier for long-term archival storage.
Access to the AWS Ground Station is not self-service and so will require prospective clients to contact the AWS Ground Station team. Additionally, while a total of 12 AWS Ground Stations are planned globally by the end of 2019, additional AWS Ground Stations will be built as client utilization and demand dictates. Lastly, pricing is per-minute of downlink time, with an option to pre-pay for blocks of minutes.