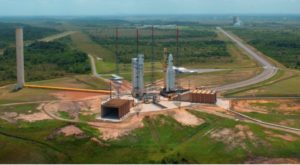 Arianespace will carry out a Launch Readiness Review (LRR) at the Guiana Space Centre on 3 December 2018 of the Ariane 5 satellite launch vehicle that will loft the Indian Space Research Organisation's (ISRO) GSAT-11 communications satellite and the Korean Aerospace Research Institute's GEO-KOMPSAT-2A meteorological satellite, and so authorize the start of operations for the final launch countdown.
To be installed as Ariane 5's upper passenger, GSAT-11 is a telecommunication satellite designed and manufactured by ISRO that will be positioned at 74 degrees East. GSAT-11 is ISRO's largest and heaviest communication satellite ever and is configured on its next-generation I-6K structure to provide communications services from geostationary orbit in Ku- and Ka-bands in both forward and return links.
Offering a multi-spot beam coverage over the Indian mainland and nearby islands, GSAT-11 will bring significant advantages to users when compared with existing INSAT/GSAT satellite systems. Its designed lifetime is more than 15 years.
With two of ISRO's additional satellites remaining in Arianespace's order book (GSAT-31 and GSAT-30), the launch of GSAT-11 is to be another vivid demonstration of the strong bond uniting Europe and India in space cooperation.
The GEO-KOMPSAT-2 satellite is a national programme of the South Korean government to develop and operate two civilian geostationary satellites, GEO-KOMPSAT-2A and -2B.
Positioned on Ariane 5 as Flight VA246's lower passenger, GEO-KOMPSAT-2A is designed to conduct meteorological and space weather monitoring missions whereas GEO-KOMPSAT-2B is to carry out Earth environment monitoring and ocean monitoring missions.
Covering the Asia-Pacific region, this weather satellite will be stationed at the 128.2 degrees East orbital location for a 10-year nominal life in service. Developed by KARI at its facility in Daejon, South Korea, GEO-KOMPSAT-2A will be KARI's second satellite, and the seventh for South Korea to be lofted by Arianespace.
Prior to Flight VA246, Arianespace has orbited 588 satellites, out of which 115 were launched for eight space agencies around the world (Europe, France, Italy, Sweden, U.S., India, South Korea, and Japan).
GSAT-11 and GEO-KOMPSAT-2A will be the 589th and 590th satellites to be orbited by Arianespace respectively.