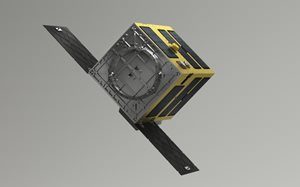 Astroscale Japan Inc., an affiliate of Singaporean-Japanese New Space company Astroscale that aims to utilise technology top remove space debris in Earth orbit, has contracted with Russian satellite launch provider Glavkosmos/GK Launch Services to launch its End of Life Services by Astroscale –demonstration (ELSA-d) spacecraft on a Soyuz-2 cluster mission from Baikonur Cosmodrome in early 2020.
ELSA-d is Astroscale's first project to demonstrate the core rendezvous, capture, and docking technology for future semi-cooperative debris removal missions. ELSA-d consists of two spacecraft, a Chaser (160 kg) and a Target (20 kg), launched stacked together. The Chaser is equipped with proximity rendezvous technologies and a magnetic capture mechanism which enables it to dock with the Target's Docking Plate.
Over 4,500 satellites orbit the Earth, providing critical services including global communication and positioning capabilities. Upwards of 15,000 satellites are expected to be launched over the next ten years, including into orbits that are already highly populated. There are growing concerns that a collision between uncontrolled space debris and an active satellite could cause global commercial and security risks and lead to a cascading debris effect making these orbits unsustainable.
Founded in 2013, Astroscale seeks to develop solutions for satellite end-of-life and active debris removal services to mitigate the growing and hazardous buildup of debris in space. The company is headquartered in Singapore, with a research and development facility in Tokyo and an Operations Centre in Harwell, United Kingdom.