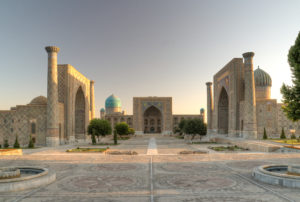 Uzbekistan and France have signed a framework agreement on space cooperation during a state visit to Paris by Uzbek President Shavkat Mirziyoyev on 9 October 2018.
The agreement was signed in the presence of French President Emmanuel Macron by Centre national d'études spatiales (CNES) President Jean-Yves Le Gall and Abdulaziz Kamilov, Uzbekistan's Minister of Foreign Affairs, on space cooperation between the two nations.
Joint activities under the agreement will cover space science, Earth observation, telecommunications satellites, space applications, space research and technology, and coordination of international regulatory issues.
Along with developing joint projects, the signatories of the agreement will focus on exchanging expertise and best practices, and training and promotion of space activities with a particular focus to engage younger generations. A joint steering committee comprising Uzbek and French officials will be formed to coordinate these efforts.
The signing of this framework agreement will enable France and Uzbekistan to develop multiple collaborative space projects in a range of fields, and is the culmination of months of talks between Uzbekistan and French officials and industry executives.
For months now Uzbekistan has been wooing French satellite manufacturer Thales Alenia Space to help develop its own space and satellite industry, according to Uzbek media outlets.
This became known following talks held in France between first deputy chairman of the Uzbek Senate, Sadyk Safayev, and Eric Imbert, vice president of Thales Alenia Space .
The two sides discussed mutual cooperation centering on space and satellite projects in Uzbekistan, to include collaboration on integrated satellite systems and the establishment of a space technology and industrial base in Uzbekistan, a former Soviet republic, as well as the training of a local workforce.
Uzbek officials have also visited Thales Alenia Space satellite manufacturing facilities in France.
Uzbekistan and Thales Alenia Space have also been negotiating the manufacture of the first Uzbek Earth observation satellite, and are also exploring ways of implementing a joint project to develop the necessary infrastructure for connecting Uzbekistan to satellite broadband.