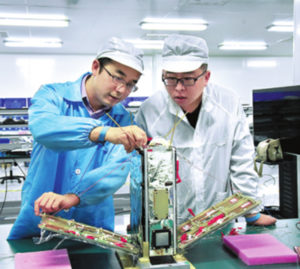 Spacety, a Chinese small satellite startup, is set to launch four CubeSats for a range of clients on a Long March 2C launch vehicle on Monday, 29 October 2018, according to GBTimes'Andrew Jones.
The four satellites were delivered from Spacety's facility to the Jiuquan Satellite Launch Centre during the first week of October. The four CubeSats will piggyback on the China-France Oceanography Satellite (CFOSAT) launch and will be placed in a 500-kilometre altitude Sun-synchronous orbit (SSO).
Spacety is headquartered in Changsha, Hunan Province, in China and provides satellite platform services to scientists, research institutions, and commercial companies for science experiments and technology demonstrations. It recently received U.S.$21.84 million in series-B funding.
"As one of the first commercial aerospace companies in China, Spacety specializes in developing commercial micro/nano-satellites. We are aiming to provide short-cycle, low-cost and one-stop services to scientists, research institutes, and commercial companies, for science experiments and technology demonstrations," says the English-language version of the Spacety website.
"Due to the high cost of traditional space industry, there are only few opportunities to participate in the game, especially in the scope of space experiments. In the era of commercial space, Spacety is willing to reduce the cost of the experiments in space with micro/nano satellites, and therefore provide more opportunities for joining the space," the Spacety website adds.
Spacety has made CubeSats in the recent past and its first small satellite Xiaoxiang-1 was launched in late 2016; two more CubeSats, Xiangjiangxinqu and Quantutong-1, were put in to orbit on the third Long March-11 launch earlier in 2018. Another payload, DIDO-2/Chen Jiayong-1, was developed jointly with the China Academy of Sciences (CAS) and SpacePharma of Israel (an official partner of Spacety) for a microgravity CubeSat test, was one of 104 satellites launched by India in February 2017.
The upcoming launch will be Spacety's fourth mission, involving four satellites with a range of partners:
Xiaoxiang-1 (02) is a technology verification test for LaserFleet, a Chinese New Space company looking to establish a low-Earth orbit constellation of 288 laser communications satellites providing broadband inflight connectivity. LaserFleet has signed a cooperation deal with the Civil Aviation Management Institute of China (CAMIC);
Zhaojin-1, also known as Tongchuan-1 after a city in Shanxi Province that is sponsoring it, is also the first of the Gamma Ray Integrated Detectors (GRID), an astrophysics constellation of 24 CubeSats being put together by Tsinghua University. Zhaojin-1, built on a Spacety 6U CubeSat, will also be involved in space-to-ground tests with the new Tongchuan commercial space ground station;
Tianfuguoxing-1 (Xinghe) is a remote sensing and Artificial Intelligence (AI) demonstration CubeSat, developed in cooperation with Guoxing Yuhang Co. Ltd. (also known as ADA Space), a New Space company located in Chengdu. ADA Space also had two payloads on the iSpace suborbital flight that took place in September 2018;
Changshagaoxin, named for the city of Changsha's high-tech zone and marking its 30th anniversary, is an amateur radio CubeSat that is also a technology verification testbed for Spacety's next-generation 20U satellite platform.
Liftoff will be from the Jiuquan Satellite Launch Centre with early indications that the launch will take place on 29 October 2018 at around 08:30 local time (00:30 Universal time).