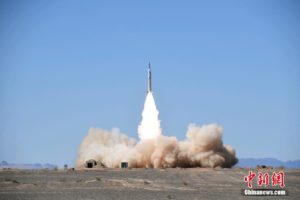 Chinese New Space satellite launch company OneSpace successfully launched its suborbital rocket, the Chongqing Liangjiang Star/OS-X1, on 7 September 2018, just two days after the successful launch of a rocket built by its rival, iSpace.
Both companies aim to launch their fully completed orbital rockets by the end of 2018.
The rocket, OneSpace's second, was launched at the Jiuquan Satellite Launch Centre in the Gobi Desert at 04:10 UTC (12:10 local), reaching an altitude of around 35 kilometres during a flight of 200 seconds, traveling 169 km, in accordance with requirements from the customer, according to a report in the GBTimes. No information on the payload has been released.
The rocket from iSpace was launched from the same launch centre.
The solid-propellant OS-X series suborbital rocket has a height of 10.2 metres, a diameter of 0.85 metres and mass at liftoff of 8.1 metric tonnes, providing 35 tonnes of thrust at liftoff.
OneSpace said that the Friday launch provided verification of technologies to be used for a OS-M series rocket, a larger, orbital launch vehicle which is due to debut in coming the months, according to the report in the GBTimes.
Landspace, a competitor based in Beijing, is expected to make the first attempt at a Chinese private orbital launch: its Zhuque-1 solid-fuelled rocket is expected to launch as soon as early October. The 19-metre-tall Zhuque-1 went through assembly and factory tests last week.
The first launch by OneSpace claimed to be the first launch of a privately-designed Chinese rocket. It took place on 17 May 2018 from a test base in northwest China. The Chongqing Liangjiang Star/OS-X1 flew for 265 seconds, reaching an altitude of around 40 kilometres and traveling approximately 273 km.
OneSpace raised U.S.$44 million last month in B-series financing, adding to 500 million yuan (U.S.$77.6m) raised through earlier rounds of financing, the GBTimes reported.