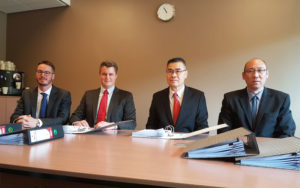 The Royal Thai Air Force (RTAF) has signed a contract with Dutch New Space satellite manufacturer and integrator Innovative Solutions in Space B.V. (ISIS) on 7 September 2018 for an Earth observation CubeSat, and ground segment, that will be launched on board an Arianespace Vega satellite launch vehicle in the third quarter of 2019.
As well as the CubeSat – based on the ISIS 6U CubeSat – and ground segment, the agreement also includes launch, on-orbit testing, mission control, training, and technology transfer to RTAF personnel. The ISIS 6U CubeSat bus weighs six kilograms and can transfer 3.4 megabytes per second of data using the S-band. As of the writing of this story the proposed resolution of the camera – and therefore the satellite's military utility – is unknown.
Once launched, the satellite will be the first to enter into service for the RTAF, one of the oldest air forces in the Asia-Pacific region, tracing its roots all the way back to 1913. While the Thai space agency, the Geo-Informatics and Space Technology Development Agency (GISTDA), recently tapped France's Airbus Defence & Space for the THEOS-II high-resolution Earth observation satellite, the Thai military's previous attempts to acquire military satellite technologies has caused political controversy after reports came out that the armed forces were going to pay over U.S.$6 billion to be part of a global constellation of small Earth observation satellites being proposed by U.S. defence and aerospace company Theia Group.
The value of the contract between the RTAF and ISIS is, at the time of publication, also unknown.
"We are delighted to be working with the Royal Thai Air Force and support them in achieving their long-term operational goals, by realizing the first elements in the required space infrastructure", said Abe Bonnema, Marketing Director at ISIS, in a company statement.
ISIS will act as the prime integrator of the RTAF Earth observation satellite programme, while Kubos Corporation, a satellite software company headquartered in Denton, Texas, and SCS Space and CubeSpace, both South African CubeSat manufacturers, are either partners or subcontractors in the project.
"Just like in the geostationary satellite market, it becomes normal that the integrator do the commissioning and hand over responsibility only when the satellite is fully working…We want to take it a step further to have cubesats as a service: mission control, licensing, data, warehousing … We'll implement and manage the infrastructure for the customers so they can focus on selling their products and their customers and not have to worry about the infrastructure," said Jeroem Rotteveel, co-founder and CEO of ISIS, about his company's approach to providing satellite capabilities to its clients in an interview with Space News at the Small Satellite Conference held in Logan, Utah, in August 2018.