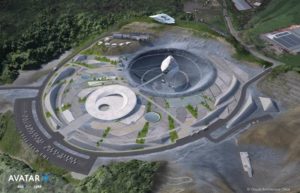 In what a growing number of analysts are calling a bold move, Japan's ANA Holdings – owner and operator of All Nippon Airways (ANA) – is partnering with the Japanese Aerospace Exploration Agency (JAXA) and companies such as Softbank, Takenaka, and HIS, to create AVATAR X in a bid to revolutionize space exploration and development through the use of avatar space systems controlled by pilots on Earth utilising virtual reality (VR) technology.
ANA Holding's announcement, made on 6 September 2018, says that AVATAR X will use state-of-the-art VR technology with partner companies as well as with JAXA's Space Innovation through Partnership and Co-creation (J-SPARC) development programme in order to kickstart the use of avatars in space exploration and the development of a space-based economy. The concept includes Earth-based pilots and controllers using space-based avatars, through the medium of VR, to build bases on the Moon and Mars, service spacecraft and space stations, as well as allow the general public to explore space in a more tangible and intimate way.
According to the ANA Holdings press release, the first phase of the AVATAR X programme is the creation and completion of the consortium of companies and organisations that want to participate and contribute, and then agree upon a roadmap for the project.
The second phase of the AVATAR X programme will be the construction of the AVATAR X [email protected] in the southern Japanese prefecture of Oita. The AVATAR X [email protected] will serve as an avatar space exploration test range featuring advanced communications and VR technologies and infrastructure to test the concept in a range of space-based scenarios defined by the AVATAR X consortium. The AVATAR X [email protected] facility at Oita will house unique and innovative structures designed by CLOUDS Architecture Office that will provide spaces for research laboratories, conference and office space, as well as restaurants and other amenities for employees and visitors.
Once phases one and two have been completed by the early 2020's, the AVATAR X consortium will launch capabilities developed by the AVATAR X [email protected] into low-Earth orbit for testing in space. As and when these technologies have been validated in space, the fourth phase of AVATAR X will begin, namely operations in Earth orbit and beyond.
"ANA is driven by a bold and inspiring vision of the future of flight and this boldness doesn't stop on our planet," said Shinya Katanozaka, President and CEO of ANA HD. "Through innovative partnerships, like AVATAR X, we are excited about the possibilities of what we can accomplish and where we can go when the private and public sectors join forces."