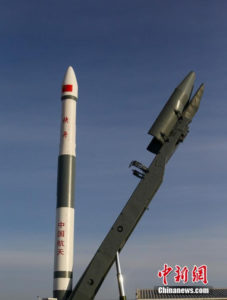 Chinese New Space satellite launch company ExPace has delivered its second Kuaizhou-1A launch vehicle to the Jiuquan Satellite Launch Centre in preparation for lift-off sometime in September 2018.
ExPace will launch its 20-metre-tall, 1.4-meter-diameter Kuaizhou-1A solid-fuelled vehicle to launch a small satellite called Centispace-1-S1. The launch will be the second one for the Kuaizhou-1A that is derived from the design used for China's antisatellite (ASAT) and ballistic missile defence interceptor missiles.
According to an ExPace press release, the rocket and transporter-erector-launcher vehicles are being delivered to Jiuquan by train following testing and assessment.
While the launch is slated for September, a precise launch date has not been announced. Nor has any information on the Centispace-1-S1 payload been released.
ExPace was jointly established in February 2016 by China Aerospace Science and Industry Corporation (CASIC), a state-owned defence company and missile manufacturer, and the China Sanjiang Space Group. This business arrangement means that ExPace cannot be considered to be a truly private company, unlike companies like OneSpace and Landspace.
The Kuaizhou-1A was first launched in January 2017 lifting a Jilin-1 Earth observation video satellite for Chang Guang Satellite Technology Co. Ltd. (CGST), a geospatial intelligence company with Chinese government connections that is building a constellation of similar satellites.
One of these Jilin-1 Earth observation video satellites captured the launch of the OneSpace suborbital rocket from orbit last week.
According to Andrew Jones of GBTimes, ExPace has signed contracts to provide launch services for further Jilin satellites, and is working on much larger Kuaizhou-11 and -21 launch vehicles. The Kuaizhou-21, with a diameter of 4.5 metres, according to Chinese media sources, will be capable of sending 20 metric tonnes into a low-Earth orbit.
In December 2017 ExPace secured approximately U.S.$182 million in funding for the development and launch of its other Kuaizhou solid-fuelled launch vehicles.
The ExPace September lift-off will be the latest in a series of launches undertaken by a number of Chinese companies in 2018, some of which can be regarded as New Space companies and others that are subsidiaries of, or subsidized by, large Chinese state-owned companies.
ExPace intends to provide low-cost and rapid launch services for Chinese and foreign small satellite customers from a new launch site at the Wuhan National Space Industry Base in the capital of China's Hubei Province that was created in 2016.