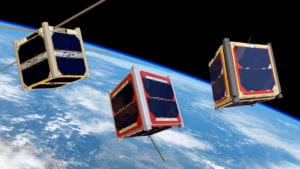 The satellite industry is in the grip of a revolution that is being driven by low-cost, small satellites that are cheaper to build and launch than ever before. These smallsats are beginning to change the economics of space and analysts forecast exponential growth, but there is a hurdle that threatens to stifle their success and that is the fact that small satellites are struggling to find a ride to space. Helen Jameson, Editor-in-Chief, SpaceWatch.Global explores the situation and the NewSpace companies emerging to create the solution.   
The small satellite revolution is in full swing. It is on the menu at every conference. It is on our news feeds. It is the talk of the industry. The last couple of years have heralded a true breakthrough for the small satellite as news has poured in of new constellations in development and emerging operators looking to use small satellites to drive innovation and cater for emerging applications. With manufacturing prices tumbling and increasingly sophisticated technology and propulsion systems becoming reality for the smallsat, this is a phenomenon that is surely set for longevity. However, there is one rather large problem looming and that is the shortage of rides into space. Yes, you have a satellite but how do you find a vehicle to get it where it needs to go?
Challenges for a growing market
The projected growth of the smallsat market illustrates perfectly the need for alternative launch options. Orbis Research forecasts that the global smallsat market will grow from $2.28 billion in 2016 to $7.66 billion in 2023. However, this growth could be stifled if the rides to space aren't available.
This challenge was very evident at the Satellite 2018 show last month and there was plenty of frustration shown by small satellite operators who long for dedicated launches to orbit. One panel during the conference opened with a poll question that asked: 'What are you most dissatisfied about launch today?' The overriding response was a lack of launch options.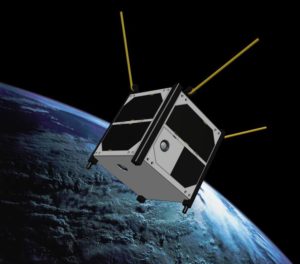 From an operator's perspective it is easy to understand why the situation is becoming unacceptable. For Spire, a small satellite operator that specialises in gathering data from its network of LEO cubesats for industries such as maritime, weather and aviation and that depends upon high frequency launches, the impact upon business is tangible. Jenny Barna, Director of Launch for Spire, said during the panel that it can be extremely challenging to find a ride to space and, as a secondary launch, which is how the majority of small satellites find their way to space, anything can happen. It is utterly dependent upon that primary payload.  In fact, for Spire, Barna explained that just recently, of 12 launch opportunities that came to light, just 7 of these actually materialised. It's unreliable and this unreliability has an inevitable knock on effect for any small satellite operator.
From Virgin Orbit's perspective on the same panel session, President and CEO, Dan Hart, commented that: "The market is thirsty for launch and that this is reflected in Virgin Orbit's launch manifest which is busy for the first couple of years and this is only expected to grow significantly."
There are many new and extremely innovative small launch vehicles in development so this bottleneck promises to ease eventually. However, once a vehicle makes its maiden flight, it still must prove that it can launch reliably and on time so there is an inevitable wait for these vehicles to be validated and become commercially operational. There is insufficient capacity across the launch industry at present and it is more complex than it at first seems as it is spread across all types of launch vehicle and smallsat operators are reduced to simply taking what they can get, when they can get it. And with the promise of multiple mega constellations in the offing, it's a problem that isn't going away. If a smallsat operator wants to launch to a specific orbit at a specific time, they have quite a task on their hands.
But let's look at the positives. There are some incredible small launch vehicles in development and they are promising to become operational in the very near future. The influx of these launch companies has come about through the NewSpace movement, which is fuelling entrepreneurship in the space sector. Yes, this is currently a very frustrating time for smallsat operators who find themselves scrabbling around for launches  and are constantly beholding themselves to their larger counterpart's schedules. However, this is also unprecedented. We must remember that, as an industry, we have never been here before. We have never been through this small satellite revolution. We don't even know whether all of these planned constellations will even make it to space. However, the fact is that there are a lot of companies working on solving the launch problem, actively trying to be innovative and ground breaking so that they can further drive down costs.
Rocket Lab's Electron rocket provides a thrilling example of how new technology such as 3D printing is coming together to make access to space easier for smallsat. NASA, Spire, Planet and Spaceflight are all signed-up customers.
The test programme of the Electron began in May last year and its first commercial flight was slated to take place on 20th April but, due to some problems spotted with a motor controller, this initial launch been postponed to the next slot in a few weeks' time. The Rocket Lab team has built the rocket from scratch, in-house and in under four years. The team has even built the world's first private orbital launch range in New Zealand. It is hoped that the Electron will achieve a launch rate of one launch per week by the end of next year. Spire will be a customer on Electron's first commercial flight.
The new kids on the block
A couple of very interesting launch start-ups specifically targeting the smallsat launch market are Equatorial Space Industries and Thor Launch Systems.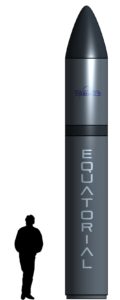 Singapore-based Equatorial Space Industries is developing the Volans launch vehicle which is a simple and compact two-stage hybrid launcher capable of delivering between 35-70kg of payload into LEO, depending on inclination. Just recently, SpaceWatch Global spoke to Simon Gwozdz, CEO of Equatorial Space Industries, who explained: "It is being designed to support all major nano-and-microsat interfaces. It is therefore small enough to allow dedicated launches of 2-3 6U cubesats at a time, at a flexible schedule in order to deploy large constellations fast and without resorting to time-or-propellant inefficient phasing techniques. Aside from using liquid oxygen, we chose pretty much the simplest technological solutions conceivable to keep our costs down."
Volans will be smaller than vast majority of small launchers, and in tandem with its hybrid engines it will be affordable to manufacture, transport and operate. Its size will also enable dedicated launches at a time when cubesat operators are still forced into ride sharing, even by the small launcher industry.
The system is slated to become operational next year and will operate out of several sites across southeast Asia that are still to be determined but that will support polar and equatorial launches. This is a very short timeline for the development of a launch vehicle, given that the company only started up in October of 2017 but the company is currently well on track. The team is working on a scaled-down prototype of its liquid oxygen and paraffin engine. Once this is finalised, it plans to move on to the full-size prototype at around August time. Many of the other systems are already either in place or under advanced development, including the company's thrust vectoring system. Though the company is prepared for inevitable delays and set-backs, they are aiming for the end of 2019 for the first revenue flights.
Thor Launch Systems is developing a truly different solution for delivery of smallsats into orbit. It is proposing a ground-based launch system for smallsats that will use electrical rockets and hypersonic payload gliders. It promises a low-cost, safe service that will create airport-like usability and a complete departure from the chemical-based rockets that we are so accustomed to. Thor's vision is to launch a rocket by heating propellant with electricity powering a high-thrust electric rocket through an 8km-long horizontal tunnel. When the rocket exits the tunnel, the rocket motor and propellant tank are then discarded and a hypersonic payload-carrying glider will complete the mission. The Thor Team's hope is that this type of system will drive launch costs down somewhere in the ballpark of the cost of critical air cargo today. Eventually, the team envisages the time between launches as minutes, not days. The first commercial launch facility to be delivered by Thor Launch Systems is scheduled for 2020.
As we can see, there is some incredible and unique thinking going on in the launch industry but it's not just with the physical launches themselves where weaknesses have been discovered. The process of securing a smallsat launch is currently a laborious task but there are two entrepreneurs tackling this head on with the development of Precious Payload – a smallsat launch booking system that matches up smallsats to launches on a wide variety of different launch vehicle types.
Andrei Rebrov and Andrei Maskimov have developed an Expedia-like interface that will eventually deliver all available launch options at any one time. The software is cutting-edge and uses specially developed algorithms to enable it to find the best matches. Users simply enter the parameters of their mission and then they are connected to launch service providers who have availability or who can potentially help them. This will save operators a huge amount of time and money in trying to identify a launch.
Space sustainability the responsibility of all space actors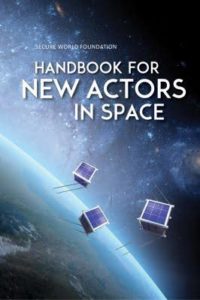 It is also of paramount importance that both smallsat operators and launch service providers adhere to best practice in space that will ensure sustainability. Just recently, we have seen how this can go wrong when it is not managed properly with the Swarm Technologies incident where smallsats were launched without FCC permission on an IRSO PSLV rocket. There are tools and resources available to help smallsat operators to stick to fundamental guidelines. The Secure World Foundation has developed the Handbook for New Actors in Space, which is intended to provide nations, established satellite operators, start-up companies, universities, and other space actors with a broad overview of the fundamental principles, laws, norms, and best practices for peaceful, safe, and responsible activities in space. A free PDF version of the Handbook can be downloaded from the SWF website at https://swfound.org/handbook/.
Help is on its way
In summary, innovation in smallsat launch technology is not a problem. It is there in abundance. However, what we must remember is that we are finding ourselves in a place where we have never been before. The massive growth in the small satellite market has, to a certain extent, taken us off-guard and it takes time (and a great deal of investment) to develop and validate any launch system.
It's a risky business and it doesn't happen overnight. So whilst there is an impatience for these new vehicles to come into operation, there has been huge progress over a very short time period and therefore the smallsat operators waiting for easy access to dedicated launches will eventually get their wish. It doesn't help a great deal when you are losing revenue because you need to loft your satellite, but help is coming, and it's coming from some truly pioneering entrepreneurs that are filled with the spirit and ambition of NewSpace.