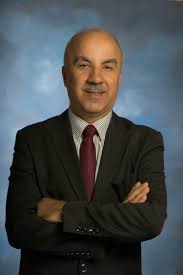 NOORSAT is a leading satellite service provider, serving the Arab World. In the latest interview in our series, SpaceWatch Middle East contributing Editor, Helen Jameson speaks to NOORSAT CEO, Omar Shoter about the region, growth opportunities and challenges.
NOORSAT is one of the leading satellite operators in the ME region, a very contested market. What is your current growth strategy for your business in the region?
NOORSAT is very focused upon staying one step ahead and our intimate knowledge of the Arab World enables us to anticipate trends that arise. This regional knowledge enables us to best prepare for changes in market dynamics and respond to them. We recognise that, as a business, we need to be agile in order to meet our customers' specific requirements. Both our space and ground infastructure is future-proofed, enabling us to deliver the very highest and most advanced services.
I think a crucial aspect is maintaining close relationships with our customers and listening to what they need. In this way, we can continue to deliver and grow our business across the region which has its own specific communications challenges and demands.

Which markets in the Arab World are currently most active for NOORSAT and which are emerging?
We have a customer-base throughout the Arab countries, countries with us which are stable economically and politically, constituting the more emerging countries.
In which market sectors do you anticipate most growth in the coming months and years?
There are several market sectors where we anticipate some growth in the coming months and years. The Arab people like to be connected, they like to have choice in terms of their TV content, and they are demanding more from their service providers.
Direct-to-Home (DTH) TV is still a steady market due to solid demand for channels that deliver a vast array content. For the Arab World in particular, regional content is a big driver of our business. Viewers want content, on both radio and TV channels, that is tailored to their culture. The number of channels that deliver this type of programming is growing.
We see potential in TV Occasional Use capacity demand. The Arab World continues to feature heavily in the news, and this service capacity for breaking news and other broadcast purposes is in demand.
Data-centric service demand is also an important part of our business as the appetite for broadband continues. Businesses especially have a great need for connectivity and we work with them to ensure that their mission-critical needs are met. We offer capacities that can serve broadband access, data applications, VoIP, GSM backhauling, and VSAT services for private and governmental networks. In addition, NOORSAT provides access to fibre optic networks from different parts of the world to our Teleport and Broadcast Centre.
We are positive about the future of satellite in the Arab market and we are looking to further strengthen our position as a leading service provider to this dynamic region.
How do you see the DTH market in the region? Is there still real growth in this sector?
NOORSAT's core business is the DTH market across the Arab World. We are doing everything we can to meet demand through our extensive space segment and ground infrastructure.
At NOORSAT, we offer a compelling proposition to broadcasters and users as our coverage is so extensive viewers do not have to adjust their satellite dishes in order to receive the content they want.
We have seen steady growth in our DTH business over the past decade. In 2009, we were broadcasting 170 TV and radio channels across the region. Today, NOORSAT carries over 350 TV and radio channels in both Standard Definition (SD) and High Definition (HD) formats to all Arab viewers across the Arab World. NOORSAT offers Direct-To-Home (DTH) TV services on the 7/8° West orbital position, through Badr Al Nile® (NOORSAT 7 and NOORSAT 7B satellites).
Testament to this increase in demand for DTH services was the fact that we expanded our DTH TV capacities with the addition of NOORSAT 7B (E8WB) satellite. DTH still represents the biggest vertical market for NOORSAT fuelled by the demand for regional content that relates to different cultural groups.
How is the transition of channels from SD to HD progressing and are you broadcasting any Ultra-HD channels as yet?
We were proud to deliver the very first HDTV bouquet across the Arab World over the former NOORSAT 2 Satellite at 7° West. We are capable of delivering HD TV channels for customers across the board and we upgraded our equipment in order to do so several years ago, following the standards required. We have already enabled customers to seamlessly transition from SD to HD and we continue to do so as and when they decide the time is right. 80% of TV viewers in the Arab World are equipped to receive HD, yet broadcasters are upgrading slowly. We would encourage any interested broadcasters to talk to NOORSAT as we can offer an extremely cost-effective upgrade service which will not require a significant increase in capacity.
With respect to Ultra-HD and 8K channels, NOORSAT is watching the 4K and 8k development in the region and will be ready as soon as possible to equip its teleport to offer such new services whenever the need in the region arises.
What, if any, are the most pressing regulatory and/or policy issues for your company as an operator in the Middle East?
As a DTH service provider, the stamping out of piracy is a challenge at the top of our list of priorities. NOORSAT initiated the establishment of the MENA Broadcast Satellite Anti Piracy Coalition, which was formed so that members may share information and align strategies  to prevent content pirates using broadcast platforms to steal intellectual property rights and damage our legitimate interests.
The customers are solely responsible for any applicable regulatory requirement and for their content.
We were actually the first satellite service provider to stop pirated TV channels and have since taken many off the air in order to cooperate fully with the MENA Broadcast Satellite Anti Piracy Coalition and we also support all other members and and other party that may ask for our assistance.
It is important that we point out that NOORSAT is not responsible for the content that is broadcast by TV channels that use our platform. The TV channel is liable for their content, and this is made clear in the contract that we sign with them.
On a very positive note, we had good success in bringing down the number of incidents of piracy in 2016 and we are making this a top priority for 2017.
What product and/or technology that you have or are developing that you think gives you the competitive advantage over your rivals?
We use the latest state-of-the-art technology, through our broadcasting centre, and we keep upgrading the systems, we are slowly transforming to automated IP technology where it is relevant and we provide the latest monitoring and around the clock customer service.
What does 2017 hold for NOORSAT?
In 2017, we want to strengthen our market position by maintaining NOORSAT's position as a leading satellite-based service provider in the region and delivering the very highest standard of customer service, all at a competitive price.
Medium to long term, we would like to see the company become the premier platform for DTH TV in the Arab World, to maintain our pace with industry developments and to provide new, hi-tech, satellite-based associated services and offer a cost effective HD service augmented by OTT services as the market demands. The Arab World is a fascinating and constantly evolving market and we look forward to serving it well into the future.
 SpaceWatch Middle East thanks Omar Shoter, CEO NOORSAT, for the interview.

Original published at: https://spacewatch.global/2017/02/the-spacewatchme-interviews-omar-shoter-ceo-noorsat/