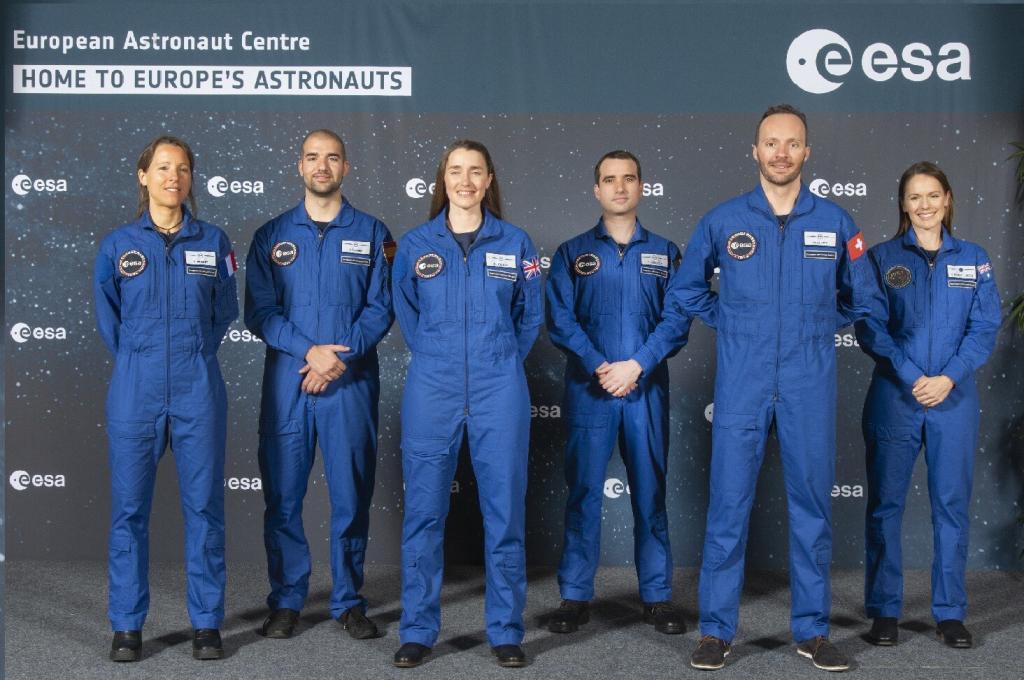 London, 3 May 2023.- Today marks one month since ESA's newly selected astronaut class of 2022 began their basic training in Cologne, Germany. The first news conference took place today live from the European Astronaut Centre (EAC). ESA astronaut candidates Sophie Adenot, Pablo Álvarez Fernández, Rosemary Coogan, Raphaël Liégeois and Marco Sieber took up duty at the EAC on 3rd of April 2023 to be trained to the highest level of standards as specified by the International Space Station partners. They are part of the 17-member astronaut class of 2022, selected from 22,500 applicants across ESA Member States. 
The astronaut basic training will last for thirteen months, ending next year in May, afterwards they will be assigned a mission to the space station. Basic training includes learning about space exploration, technical and scientific disciplines, space systems and operations, alongside spacewalks and survival training.
The ESA candidates are joined by astronaut candidate Katherine Bennell-Pegg, seconded from the Australian Space Agency. For the first time an astronaut candidate is being trained from another country which ESA attributes to the quality of their training. 
The five astronauts at their conference expressed first impressions after their initial month of training. Highlights so far for Rosemary Coogan, included a trip to the biology labs, where they have started to practise pipetting of a sample in a sterile environment. They have been imagining how this will be in a microgravity environment. Marco Sieber said that he is looking forward to practical lessons like EVA training in the pool and survival training. 
Frank de Winne, Head of ESA's European Astronaut Centre, said the aim is before 2030 that all astronaut candidates will have had the opportunity to fly to space and to the international space station. John McFall will take part in a parastronaut feasibility study which will last two to three years, examining the basic hurdles for a parastronaut. 
ESA Director for Human Spaceflight and Robotic Exploration, David Parker reflected that the exploration programme has grown significantly in Europe. It has been built around three destinations: low-earth orbit (LEO), the Moon, and Mars. Europe will build 50% of the Lunar Gateway which aims to be operational by 2025. Parker says that three ESA astronauts will fly to Gateway on Artemis missions.