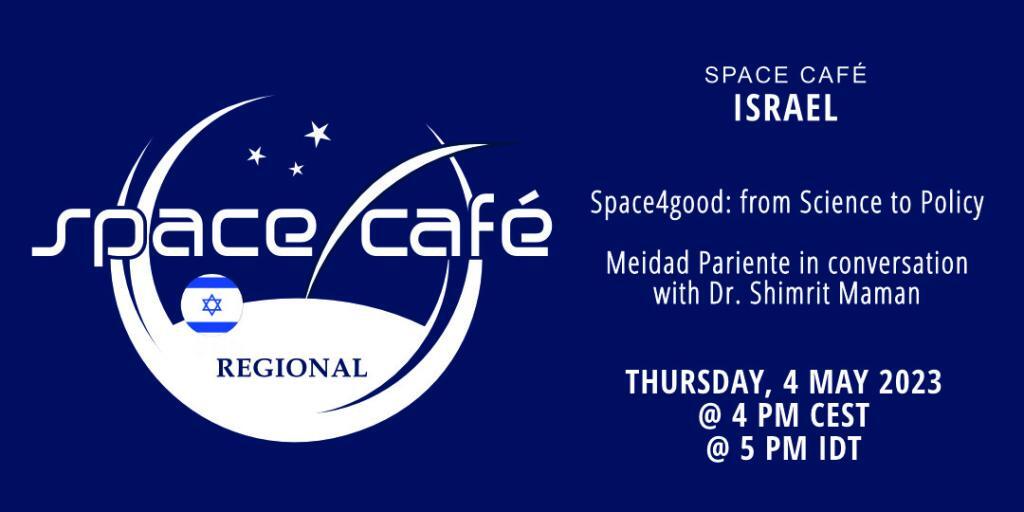 This Space Café Israel will feature Dr. Shimrit Maman , Senior scientist & Director for the Earth and Planetary Image Facility and Head of Israel's UN-SPIDER RSO, in conversation with Meidad Pariente, correspondent of SpaceWatch.Global for Israel.
Space4good: from Science to Policy
Dr. Maman is a senior scientist in the Homeland Security Institute and director of the Earth and Planetary Image Facility (EPIF), both at Ben-Gurion University of the Negev. Her research deals with the application of satellite technologies (remote sensing, GIS, OSINT) to environmental challenges and climate change. She is an integral part of the research team leading BGUSAT, Israel's first research nanosatellite. She also serves as a UN-SPIDER expert and heads the Israeli Regional Support Office of the United Nations Platform for Space-based Information for Disaster Management and Emergency Response.
Previously she served as the board director of D-mars, and is a founding board member of WiSpace, a women's association promoting gender equity among Israeli STEM professionals and was appointed by UNOOSA as a mentor in the SPACE4WOMEN Network. Currently on the board of directors of the Ramon Foundation.
Maman leads diverse education and outreach programs promoting Science Technology Engineering Arts and Mathematics (STEAM), using hands-on research activities, at both the national and international scales, including the unique, all-girl, international remote sensing science program: She Space.
Quote by Dr. Maman:
"Although it is a vast, icy void, I think space holds unique opportunities for dreamers unafraid to boldly face meaningful challenges".
Meidad Pariente is an entrepreneur and innovator, with more than 25 years of experience in managing technologies. He is the CTO and Co-founder of SPACECIALIST, and CIO and Co-Founder of SKY AND SPACE Company (Nanosatellite Communication Network company). Before he was the CTO and Co-founder of Effective Space Solutions (Now Astroscale IL). Meidad advised space insurance companies, and led several multidisciplinary programs for ImageSat International, Elbit space division, The Technion and Rafael. He was the technical lead and AIT manager for "Duchifat-1", the first Israeli nanosatellite. In the past he worked at MBT-Space as a satellite operator, systems engineer, Chief systems engineer, and Chief architect for several communication and earth observation satellites. During his carrier at Israel Aerospace Industries, Meidad won seven "business improvement awards" and two "outstanding performance" awards. Meidad is also an experienced director and board member.
The audience will have an opportunity to ask questions in dialogue with Dr. Shimrit Maman on 4 May 2023 at 4pm CEST.
This Space Café Israel will be conducted in English.
SpaceWatch.Global is a Europe-based digital magazine and portal for those interested in space and the far-reaching impact of the space sector.
Reserve your spot now.