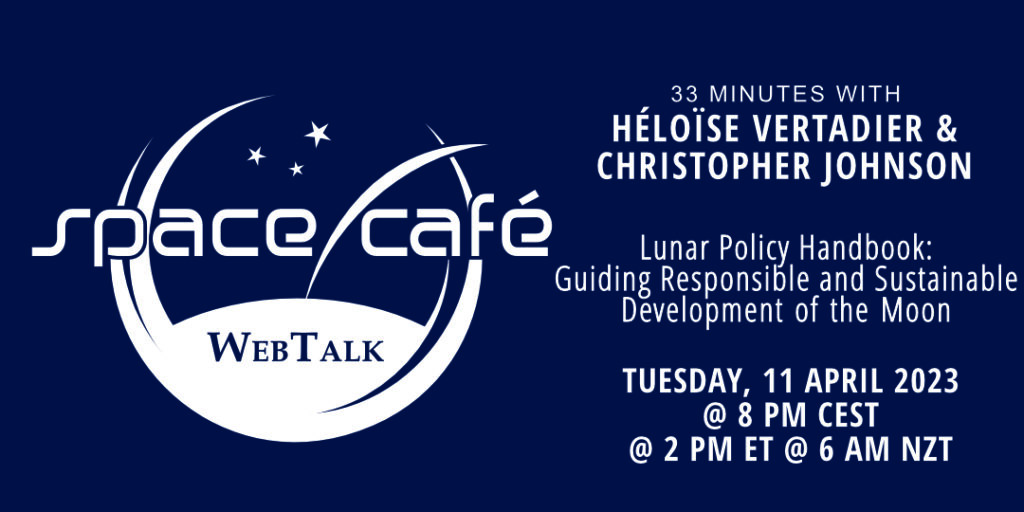 This Space Café WebTalk will feature Héloïse Vertadier, Co-Founder and Manager of the Breaking Ground Trust, and Christopher Johnson, Space Law Advisor at the Secure World Foundation, in conversation with Torsten Kriening, Publisher of SpaceWatch.Global.
"Lunar Policy Handbook: Guiding Responsible and Sustainable Development of the Moon"
The Lunar Policy Handbook is a reference guidebook for government personnel and private actors in the space industry. It is designed to be a high-level guide that is useful for a broad audience of space actors, outlining policy issues and operational considerations related to lunar activities. Part I of the handbook outlines the current policy issues, including registration, liability and transparency. Part II targets policy questions related to operational considerations. It follows an approach that explores the potential policy implications of specific lunar activities, such as orbital, landed and infrastructure activities.
Héloïse is the Co-Founder and Manager of the Breaking Ground Trust , and was the Project Lead of the Lunar Policy Handbook. In addition to her expertise in cyber and aviation law, she completed the MSS program at the International Space University and is finishing a Ph.D. at Otago University, New Zealand. Her thesis on global governance, space law, and establishing human settlements on the Moon is supported by a grant from the Luxembourg Space Agency. Héloïse's work explores the intersection of law and technology, developing innovative policies using existing legal tools. She has previously worked with the Open Lunar Foundation and NASA Ames Research Center, and her contributions to the field have been recognized through numerous publications.
Christopher Johnson is a graduate of the International Institute of Air and Space Law, at Leiden University, and interned at the United Nations Office for Outer Space Affairs. For the past 8 years, he's served as the Space Law Advisor at the Secure World Foundation, a Non-governmental Organization focused on creating cooperative solutions for advancing space sustainability.
The audience will have an opportunity to ask questions in conversation with Héloïse Vertadier and Christopher Johnson.
SpaceWatch.Global is a Europe-based digital magazine and portal for those interested in space and the far-reaching impact of the space sector.
This Space Café WebTalk will be conducted in English on 11 April 2023 at 8 pm CEST, 2 pm ET and 6am NZT.
Reserve your spot now!