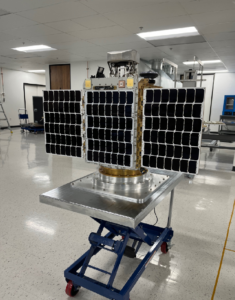 London, 10 March 2023.- Starfish Space, a Seattle-based start-up, has raised $14 million in funding to support its plans to develop spacecraft capable of hooking up with bigger satellites to boost their orbits or dispose of them. 
The Series A funding round was led by Munich Re Ventures, with additional participation from Toyota Ventures and previous investors including PSL Ventures, NFX, and MaC VC. Starfish Space has attracted over $21 million in total investment, including pre-seed and seed funding rounds. In addition to private funding, Starfish Space has received technology development grants from NASA and the U.S. Space Force's SpaceWERX program. 
The fresh funding will go towards completing the development of the Otter Pup, a prototype satellite servicing vehicle as well as the full-size Otter spacecraft. One of the top priorities for the company is to add to its current headcount of 26 full-time employees. 
"We recognize that the ability to safely and reliably and affordably interact with other satellites on orbit is great for life extension and satellite disposal now, but it also opens up a wide world of possibilities in the future for assembly on orbit, upgrades on orbit, repair on orbit, recycling on orbit, mining on orbit," says Austin Link, who co-founded the company in 2019 with fellow Blue Origin alumnus Trevor Bennett.
Starfish plans for Otter Pup to be sent into orbit this summer as a rideshare payload on SpaceX's Transporter-8 mission. The spacecraft will be deployed from Launcher Space's Orbiter space tug, and then will execute a series of manoeuvres with a xenon-fuelled electric propulsion system to move away from the tug. If this mission is successful then the full-size Otter could be in a position to be launched in the next couple of years.