By Swarnajyoti Mukherjee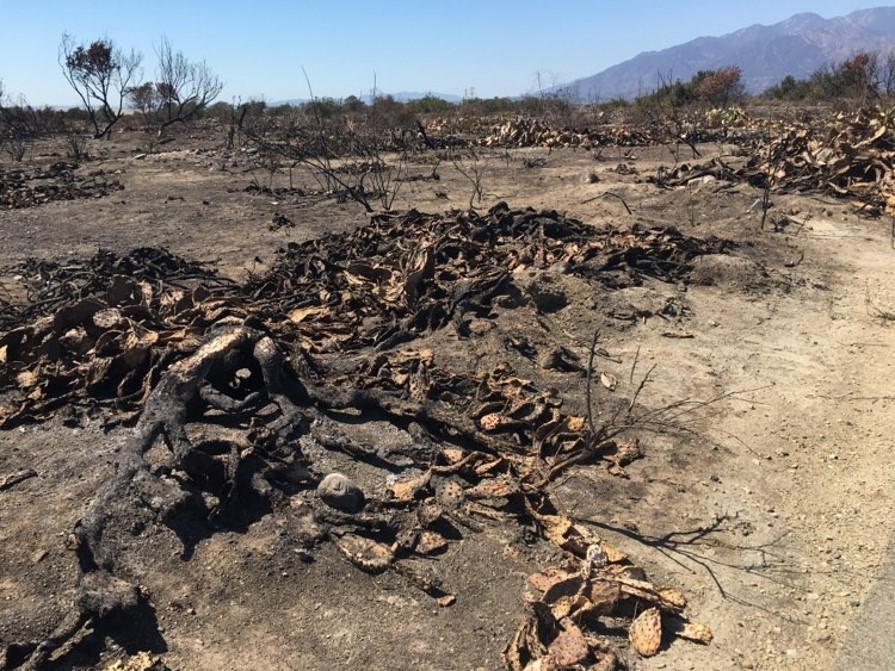 Space Technology with the capability of monitoring of earth continuously is useful for a wide range of applications, including:
Environmental monitoring: Earth Observation or EO data can be used to monitor changes in land cover, vegetation, and water bodies, as well as to track the impact of natural disasters such as floods and wildfires.
Natural resource management: To support sustainable development and conservation efforts, EO data can be used to map and monitor resources such as forests, minerals, and fisheries.
Climate change research: By monitoring changes in sea level, snow cover, and the ice sheets, EO data can be used to study the effects of climate change on the Earth's surface and atmosphere.
Urban planning: In order to support smart city planning and disaster risk management, EO data can be used to map and monitor the growth and development of cities.
Disaster management:  To support emergency response and recovery efforts, EO data can be used to detect, track, and monitor natural disasters, such as hurricanes, floods, and earthquakes.
Weather forecasting: EO data can be used to monitor and forecast weather patterns, including severe weather conditions such as thunderstorms and tornadoes.
These are some of the ways EO data can be useful and useful in many different fields and activities. EO data gives us the ability to monitor the earth from space and to create accurate maps that help us understand the planet better.
The Earth Observation (EO) market is expected to grow in the area of prediction and detection of risks, post-disaster rescue, recovery efforts, infrastructure planning, urban development utilities, and national mapping agencies. Satellite data can be integrated into system control to construct warning systems for assets management, to effectively decrease the response time in operation and increase management of precise and predictive maintenance. In other words, the growth of EO data creates a potential growth both in mitigating against climate damage and economic and efficiency growth across industries, across regions. But this potential will only come to fruition if utilized.
Why wildfire is important in the US states?
Due to climate change, rising temperatures, and drier vegetation are all contributing causes of wildfires from the Amazon to the Arctic and California to Siberia. Wildfires are a growing concern, especially in regions with longer fire seasons, expanded wildland/urban interfaces, and severe and frequent droughts. Wildfires cause widespread destruction to a forest's natural ecosystems resulting in ecological, economic, and societal degradation. In 2020, the US state of California experienced its worst wildfire season on record, in which the Bay Area fire became one of the largest wildfires in American history. By the end of the year, the state recorded up to nearly 10,000 blazes that burned down over 4 million acres of land, accounting for more than 4% of the state's total land area. (Source: The New York Times) The fires destroyed over 10,000 structures (Source: CalFire Statistics) and cost over $12.079 billion (2020 USD) in damages, including over $10 billion in property damage and $2.079 billion in fire suppression costs (Source: NIFC).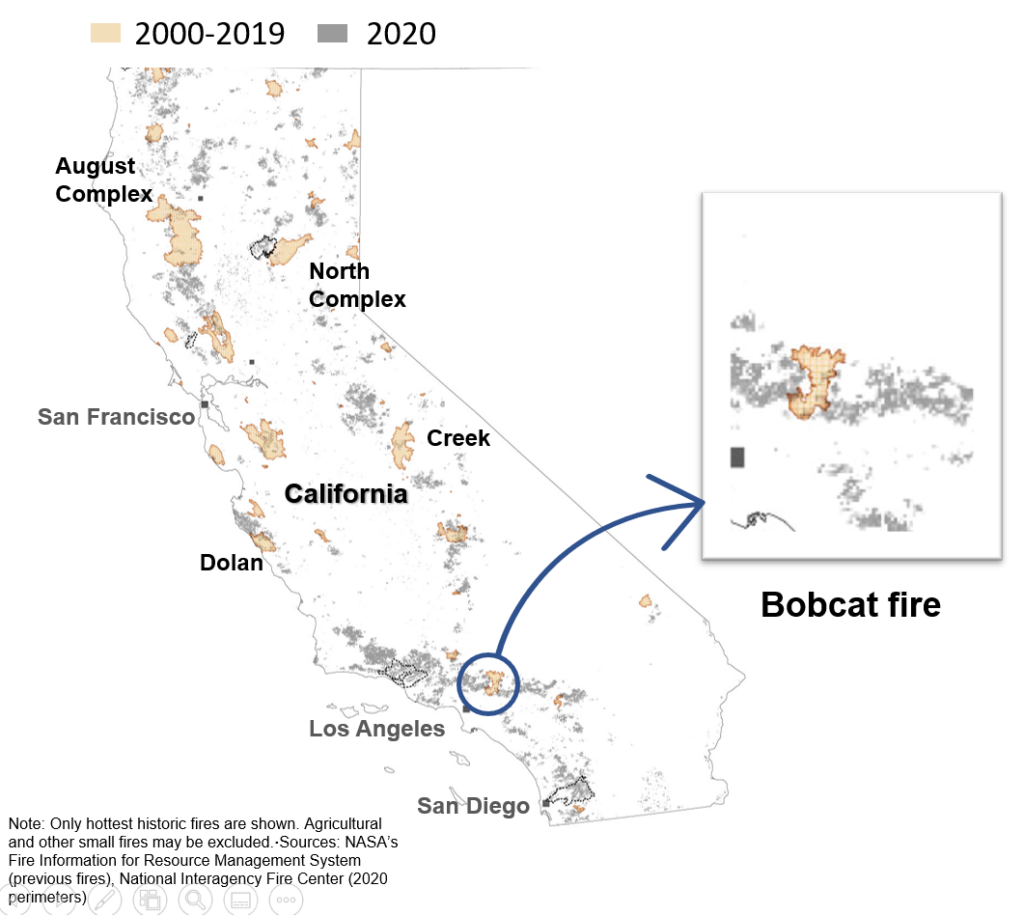 Significance of Bobcat Fire
Bobcat fire started on September 6, 2020 and burned for over 3 months until it was finally contained on December 18, 2020. The plume from the fire spanned more than 1,000 miles with smoke traveling across the entire North American continent. This fire has been one of the most devastating fires in the city's history with 26 casualties and over 180 structures damaged. Over 116,000 acres of land were affected with an unprecedented loss of wildlife which is still to be estimated (Source: Monrovia Government).
Twitter is becoming an increasingly important tool to help people prepare for and recover from disasters.
The fire has turned the high sierra granite gorge into bare and ashen sloped. As per geologists' examination and report (Source: Monrovia Government), the land is primed for mudslide condition due to the oncoming winter storm which will setback all the conservation efforts in the past years for the area. With Google Earth Engine (GEE), our team delimit the area affected by fire using an image taken on 2020-11-24 by Landsat 8 OLI/TIRS and atmospherically corrected Surface Reflectance from the collection of the GEE along with the calculation of the Normalized Burn Ratio index (NBR), an index highlighting burned areas within the fire perimeters. NASA's Fire Information for Resource Management System (FIRMS) is used for validation. We then analyze the severity of the fire within the perimeter of the burned area to understand the blazes and how they spread over the next 3 months. The advantage of using geographic information systems and remote sensing tools made it possible to analyze the effects of fire before, during and after the fire, and generate information related to the severity that will be valuable for post-studies about recovery and ecosystem restoration.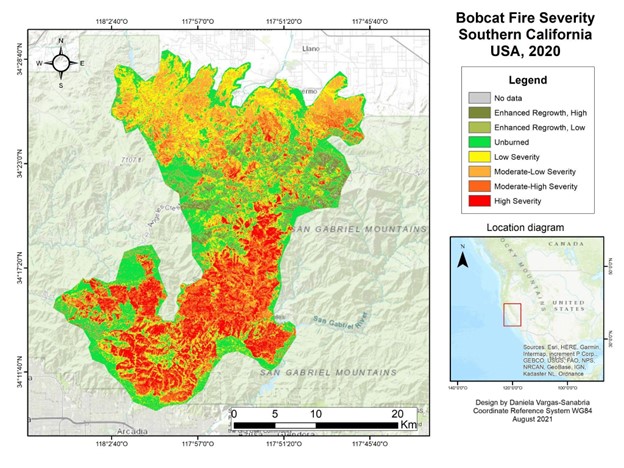 The 2020 wildfire season also brought prolonged unhealthy air quality to the region; the monthly maximum AQI was above 100 (considered unhealthy for sensitive groups) for three straight months as measured by multiple monitoring stations across the region.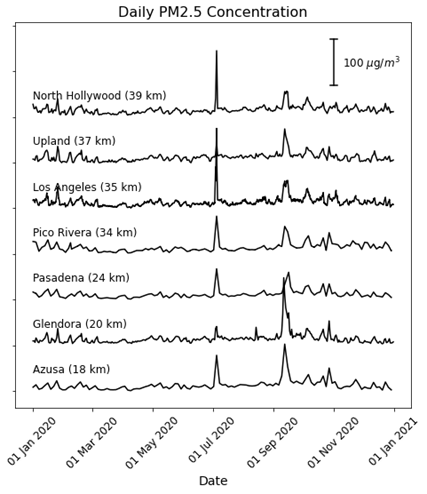 Why do we want to involve Social Media?
The use of social media, especially Twitter, has become a popular communication platform, and is identified in providing vital information in emergencies has become popular. Twitter users can use the services to work synergistically regardless of physical distance. This case study of Bobcat Fire is concerned with the use of Twitter data to show the effectiveness of society's reaction, awareness, their positive and negative aspects, relief measures, express gratitude, complaints and others. By understanding how various factors contribute to the superspreading of messages, one can better optimize Twitter as essential communication and risk reduction tool with machine learning algorithms. This study introduces which further define the technological and scientific knowledge base necessary for developing future competency base curriculum and content for Twitter-assisted disaster management education and training at the community level.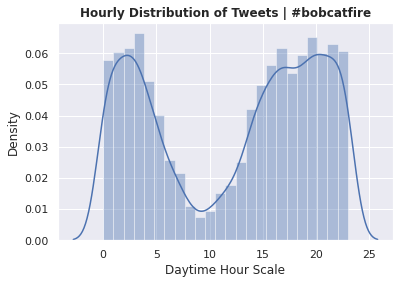 A primary literature study was done around news covering Bobcat Fire incidents to get an idea of which tweet hashtags cover the most information on Twitter. For that reason, we have used python libraries to extract tweets with Twitter API (In order to use the Twitter API, you first have to register as a Twitter developer on the developers' website) from August, 2020 to December, 2020. And used Natural Language Processing and Machine learning model to clean data including tokenization & lemmatization methods and utilized Term Frequency Inverse Document Frequency (TF-IDF) vectorization algorithm to statistically measure the frequency of usage relevant words inside the Tweets. Also, the data states that people were tweeting mostly from late evening to early morning with the "#bobcatfire". With a pre-trained model and python libraries, the team has performed sentimental analysis to understand how people are emotionally writing tweets whether they are reflecting a positive image, negative image, or neutral image of themselves. With the processed texts, the sentimental analysis reveals that about 55% show positive polarity, and 40% show negative polarity. In terms of the subjectivity of the texts, we found an average subjectivity of 0.2. Since this value is closer to 0 than 1, this means that the texts are generally more objective than subjective. Since the content is generally more factual rather than opinions, it is not unexpected that the sentiment of the majority of tweets turn out to be closer to neutral.
The growth of EO data creates a potential growth both in mitigating against climate damage and economic and efficiency growth across industries.
As such, Twitter is becoming an increasingly important tool to help people prepare for and recover from disasters. In particular, the mechanisms by which information is shared across networks during disaster events can have significant implications for disaster damages and recovery.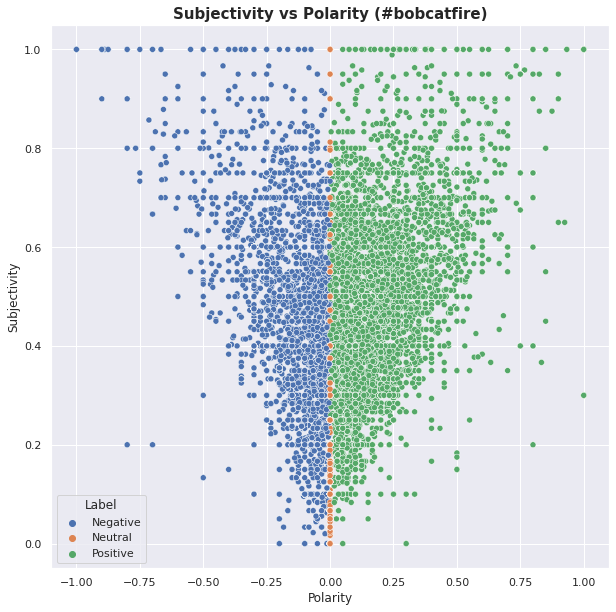 What did we learn so far?
Analyzing Twitter data along with remote sensing data can be a good source to understand the mental state of the community, estimate the number of injured people, estimate who and what is affected by a natural disaster, and model the prevalence of epidemics. Therefore, various groups such as politicians, government, non-governmental organizations, aid workers, and the health system can use this information to plan and implement interventions. Such information can be useful for planning for future disasters and enabling effective recovery following disasters, which will ideally minimize disaster damages and help increase resilience in a changing climate. But similar to any other model, this analysis depends on the quality and quantity of data and a pre-trained model for defining the polarity and subjectivity of tweets. By far from the algorithm, this database has more than 60% confidence level to statistically measure the natural language processing model.
About STEA Project Group
This case study has been performed by Space Technology for Earth Applications (STEA) Project group, successfully published & presented at the International Astronautical Congress 2021 (Dubai, UAE) and publicly available on Researchgate with the title of "Supplementing Earth Observation with Twitter data to improve disaster assessments: A case study of 2020 Bobcat fire in Southern California".
Space Technology for Earth Applications (STEA) is a rapidly growing project group of the Space Generation Advisory Council (SGAC). The mission of the group is to provide a platform for space enthusiasts to discuss various topics (e.g. Remote Sensing, IoT, GNSS and so on) related to the usage of space-related technology to monitor the Earth such as climate change adaptation, disaster management, environmental monitoring, urban planning, and pollution mapping.
Similar to the United Nation, STEA also follows "People, Planet, Prosperity, Peace, Partnership and the 17 SDGs". If you would like to know more about STEA's project work or would like to join, please check STEA's official page.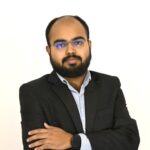 Swarnajyoti is a young professional in the Space Industry with extensive experience within European space startups. He also works as a Space Business Professional & Space Mission/System Engineer for projects from the European Space Agency (ESA) & Italian Space Agency (ASI) in Apogeo Space SRL, Italy. He has worked on multiple satellite projects in the area of system management, mission design, ground station network and all subsystems. A winner of the pre-acceleration program of the Incubation Centre (ESA-BIC) Denmark and experienced from Earth Observation (EO) business cases from ESRIN-PhiLab, now he acts as a Venture Lead at SpaceQuest Venture SA in Switzerland, where he invests and gives technical/business advice to the early-stage start-ups. Besides being a Co-Lead of the STEA Project group, he leads projects and gives lectures on EO, Geoinformatics, Data Science, AI/M/DL, etc.