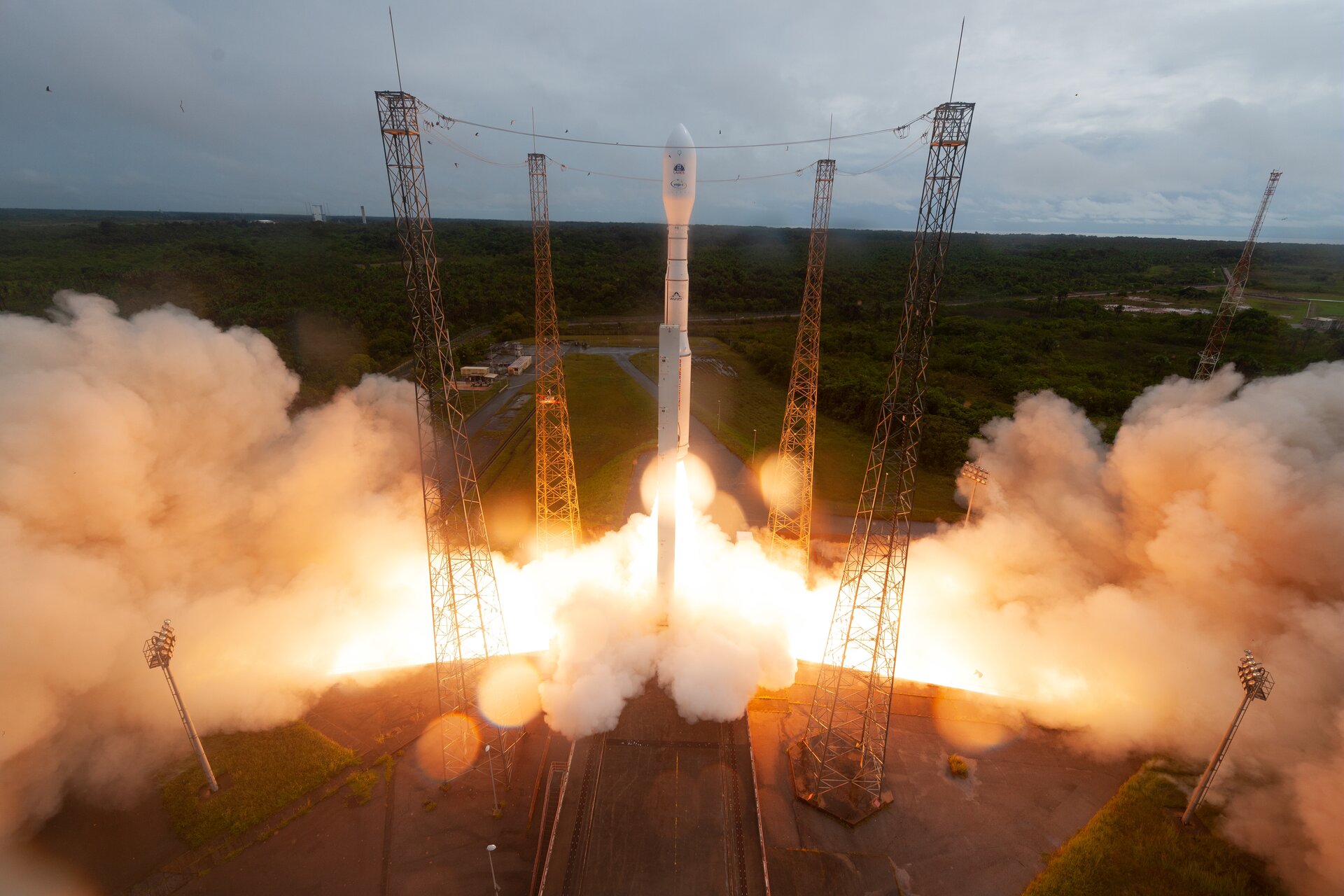 Ibadan, 3 March 2023. – The Arianespace and ESA-set up independent inquiry commission has disclosed its conclusions on the reasons for the loss of the Vega-C VV22 mission after its launch in French Guiana on Tuesday, 20 December 2022. According to the Commission, after the nominal functioning of the Vega-C first stage P120C and nominal ignition of the second stage (Zefiro 40), a progressive decrease in the chamber pressure 151 seconds after lift-off led to the loss of the mission.
Initial investigations confirmed that the launcher's sub-systems reacted to the events as designed and that the failure resulted from a gradual deterioration of the Zefiro 40's nozzle. Furthermore, the Commission confirmed that this was due to an unexpected thermo-mechanical over-erosion of the nozzle's carbon-carbon (C-C) throat insert, procured by Avio in Ukraine. Additional investigations led to the conclusion that this was likely due to a flaw in the homogeneity of the material.
In addition, the anomaly also revealed that the criteria for accepting the C-C throat insert were insufficient to demonstrate its flightworthiness. As a result, the Commission concluded that the specific C-C material could no longer be used for flight. However, the Commission discovered no weakness in Zefiro 40's design. Avio is implementing an immediate alternative solution for the Zefiro 40's nozzle with another C-C material by ArianeGroup. This alternative solution is already used for Vega's Zefiro 23 and Zefiro 9 nozzles.
Considering the nature of the VV22 anomaly, the Commission emphasized that its conclusions on Zefiro 40 did not affect the Vega launcher, which is relying on the Zefiro 23 and Zefiro 9 motors. In this context, Arianespace adapted its launch schedule to reassign a mission to one of its two remaining Vega launchers with a targeted launch date before the end of summer 2023.
Following the conclusion, the Commission also formulated recommendations to restore confidence in the Vega and Vega-C launcher systems by establishing robust recovery plans to ensure a reliable return to flight and robust commercial exploitation. They include
To complement the findings of the Commission with additional testing and analysis to ensure the robustness of the qualification of the alternative C-C material selected for Zefiro 40;
To implement an additional qualification phase of the Zefiro 40 engine with the alternative C-C material;
To implement a set of actions to guarantee long-term reliable and sustainable launcher production.
Commenting on the conclusion, Josef Aschbacher, ESA Director General, said: "The Independent Enquiry Commission stands for ESA's commitment to the highest safety standards. It has drawn a set of recommendations to ensure a robust, reliable return to flight of the Vega-C launcher." Aschbacher also added that the Agency will engage its engineering and project management expertise to support Avio in implementing actions necessary to regain confidence in the launcher system. He said, "restoring Europe's independent access to space is ESA's priority, and I am therefore glad that we can proceed with Vega launch campaigns while preparing Vega-C to return to flight safety."