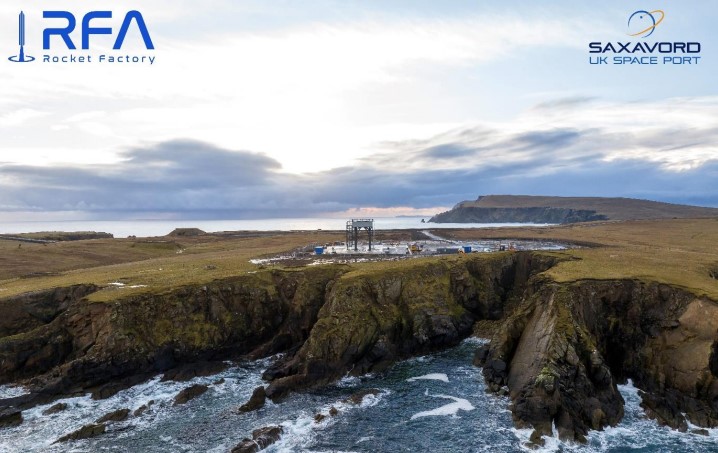 Ibadan, 11 January 2023. – Rocket Factory Augsburg AG (RFA) and SaxaVord Spaceport have announced their launch operations partnership. As a result of the partnership, RFA will have exclusive access to Launch Pad Fredo for orbital launches. Consequently, the company's first launch of its RFA ONE launch system – currently planned for the end of 2023 – will take place from the northernmost point in the UK.
The commercial Spaceport in Shetland is ideally located for RFA to launch payloads at high cadence into polar and sun-synchronous orbits. Other than this, existing logistics and infrastructure, launch readiness, rapid implementation, and matching mentality were key factors why RFA chose to partner with SaxaVord. With the multi-year partnership, which includes investments in the double-digit million-pound range, RFA is securing its first-flight launch site to provide its services individually and flexibly to customer requirements.
Construction on the launch pad and stool will be complete by the end of 2022. Therefore, RFA launch pad will be the first for vertical orbital rocket launches in the UK and mainland Europe. In the future, the launch pad will be for orbital launches and testing and qualification of the RFA ONE core stages. These tests should begin in mid-2023, with the first launch to be into a 500 km high sun-synchronous orbit.
"This partnership of privately-financed companies enables the spirit and speed that we need to be on top of the commercial small launch
competition," said Jörn Spurmann, Chief Commercial Officer at RFA. "We are proud to be part of this historic event for the UK, having built the first launch pad in mainland Europe," Spurmann added.
Likewise, SaxaVord Spaceport CEO Frank Strang said, "we will support RFA across the entire lifecycle of a launch, from facilitating
testing, inspections, fueling, and safety, supplying MET weather data and access to our ground station network for data capture and distribution."