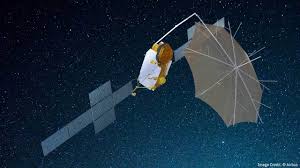 Edinburgh / Melbourne, Florida / El Segundo, California, 20 December 2022. — Aerospace and defense technology innovator, L3Harris Technologies, signed a definitive agreement with propulsion systems and energetics provider, Aerojet Rocketdyne, for L3Harris to acquire Aerojet Rocketdyne for US $58 per share, in an all-cash transaction valued at US $4.7 billion, inclusive of net debt, L3Harris said. The deal is expected to close in 2023.
This is L3Harris' second acquisition of the year after buying Viasat's Link 16 Tactical Data Links (TDL) business. L3Harris states that its aim is to deliver critical capabilities to warfighters while strengthening the nation's defense industrial base through increased competition.
L3Harris will leverage Aerojet Rocketdyne's 100-year heritage with partners like the Department of Defense (DoD) and NASA. The company has been supporting space exploration and discovery along with America's warfighters with its technology while also enhancing integrated deterrence.
According to L3Harris, the acquisition will ensure a strengthened merchant supplier to effectively address threats and promote scientific discovery and innovation. Aerojet Rocketdyne currently generates an annual revenue of about US $2.3 billion with operations carried out of manufacturing facilities in California, Arkansas, Florida, Alabama, Virginia, Washington, Mississippi, Tennessee, and New Jersey.
L3Harris intends to fund the cash acquisition with existing cash and the issuance of new debt.