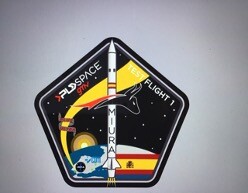 Edinburgh, 10 November 2022. – Spanish launcher company PLD Space, successfully completed the first ever European flight mission test of a microlauncher, MIURA 1, the company said. The aim of the 122-second test was to demonstrate that all components work nominally and to fine-tune the parameters for the first flight unit.
PLD Space verified that the simulated flight showed that all subsystems were operating as expected. MIURA 1 is therefore ready for its first launch, scheduled for the end of 2022 at the earliest from El Arenosillo Test Centre in Spain.
PLD Space is the first to carry out a complete test flight mission of an integrated space vehicle in Europe. During the qualification campaign, the company collected a list of small modifications that require attention prior to launch. These include changing a component or improving a design.
PLD Space has also signed a cooperation agreement with Repsol to promote the use of renewable fuels for space vehicles. The cooperation comprises feasibility studies to replace current fuels with the ones produced from sustainable raw materials. Furthermore, the companies will look into the designing of new renewable fuels, which will be custom-made at Repsol.