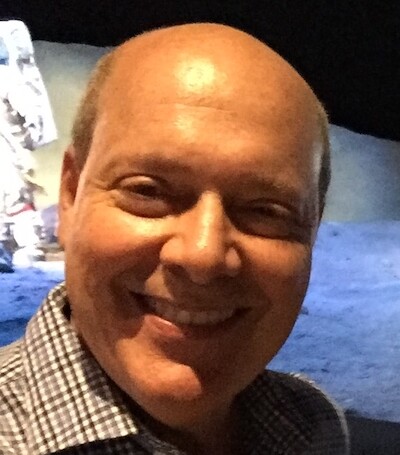 by Viktoria Urban
Our Space Café WebTalk "33 minutes with Dennis Stone about the World Space Week 2022: An insight into space and sustainability" took place on Tuesday, 4th October.
Dennis is a volunteer president of the World Space Week Association, the global coordinator of the UN declared World Space Week held between 4-10th October annually. He is also a commercial space executive at NASA's Johnson Space Center in the Commercial LEO Development Program where he manages partnerships to support the development of commercial LEO free flyers. 
During the first half of his NASA career he was working on the International Space Station (ISS) in system engineering, avionics, international relations, risk management, and technology development. In the last half of his over 35 years with NASA he has been focusing on innovative commercial partnerships, like the Commercial Orbital Transportation Services (COTS) investment in commercial cargo capabilities of SpaceX and Northrop Grumman. 
Prior to joining NASA, Dennis worked for McDonnell Douglas, Ford Aerospace, and Rockwell. He has Bachelor of Science degrees in Physics and Electrical Engineering from the University of Hawaii.
Dennis tells us about the biggest space event on Earth – as he calls it – World Space Week, in the beginning. This global event held by thousands of organizations in over 90 countries, was declared by the United Nations (UN) in 1999 as a result of UNISPACE III. National coordinators promote the event at a national level and there are global level coordinators as well. The small nonprofit World Space Week Association was established for these purposes and works in very close coordination with the United Nations Office of Outer Space Affairs (UNOOSA).
Dennis had another nonprofit organization prior to this, Space Week, which grew out of the Apollo 11 anniversaries. As 10 years after the first Moon landings, Space Day celebrations began, the nonprofit provided an umbrella for the celebrations to give it some focus and to have a unified voice in telling the media what was going on. Almost 20 years later, when the UN made his declaration of World Space Week, this nonprofit suggested to the UN moving the celebrations to the new dates and so the two events were synchronized.
The World Space Week Association does not have its own events, it merely creates the platform. People are free to celebrate World Space Week however they want. Some put on outreach and educational events for either the public or governments, or sometimes both.
The event has grown immensely in scale over the years: in 2010, there were 700 events going on, which number hit over 9000 right before the pandemic. This then dropped to 6000 during Covid. Dennis says the goal is to get people to think, listen and talk about space, particularly the future space. Impact is harder to measure but Dennis shares that thanks to the networking opportunities during World Space Week, a dialogue started back in the day, which eventually led to the creation of the South African Space Agency. 
Dennis explains that the Association aims to educate the space community about the theme that year during the build up to World Space Week. This education spans a whole year leading up to the event in the form of webinars, infographics, poster features, and many more. The Association also provides access to experts in the different fields and hire a theme manager each year as well. This year, the focus was on sustainability and so event holders were encouraged to address two elements: keeping space sustainable and the role space plays in making Earth sustainable.
"The more we can do together, the more more impact space will have on the lives of everyone," says Dennis.
Dennis also gives us a glimpse into what he does in his paid job. He says he has always been a great believer that space is not just for governments, but for society. He feels honored and fortunate to be able to help taking steps towards this goal, by instead of NASA building government-owned systems, buying services that commercial companies own and operate. This process started with the COTS program which developed commercial cargo capabilities. Then it moved to the Commercial Crew Program, which is now allowing NASA to buy a ticket for astronauts going to the ISS. 
He is currently working on a "commercial destinations" project, whereby NASA is going to buy places on private space stations that will eventually replace the ISS at the end of this decade.
To listen to the Space Café WebTalk's insights, you can watch the full program here:
Viktoria Urban, contributing Editor at SpaceWatch.Global: After graduating as a Journalist from Edinburgh Napier University, I am now doing an Astronomy and Planetary Science degree at The Open University (Scotland) which has enhanced my already existing love and enthusiasm for space. I am also a member of and a volunteer for several societies both in Hungary and in the UK and write online content on space for multiple companies as well. I hope my science communication will encourage many to find a job in the space sector, whatever their background and highlight important issues to ensure a sustainable space environment for future generations.