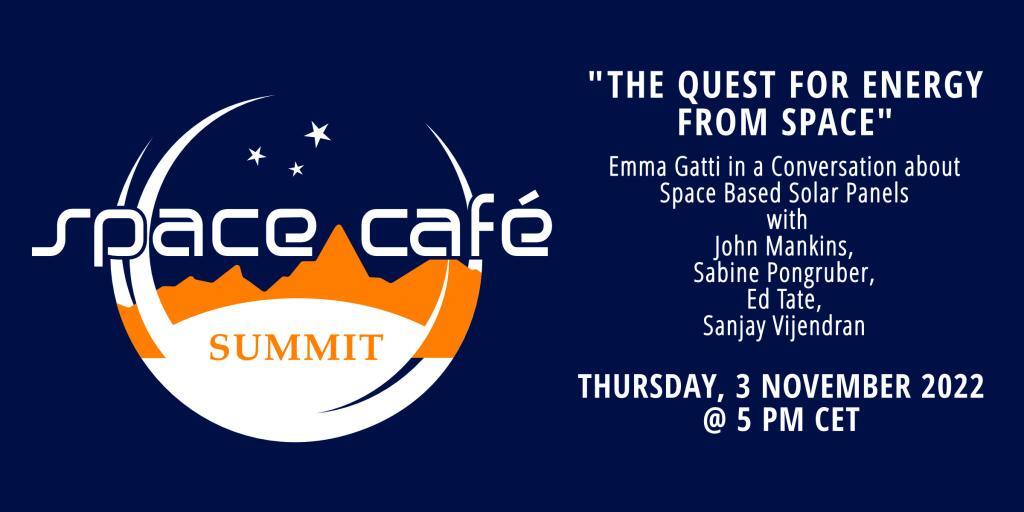 Space Cafè Summit: "The Quest for Energy from Space"
The hard reality of energy dependency has since February hit the European continent, which has decided to give a decisive push to the search for alternative methods to generate green and independent energy.
Space is part of this huge technological challenge, with Space Based Solar Panels (SBSP) being discussed more and more as a viable method to generate electricity directly from Space-based infrastructures. Needless to say, the technological, economical, political and environmental challenges are enormous.
Considering the profound interconnections between energy, politics and conflicts, what is really at stake?
What are SBSP about?
Are they really a solid alternative to generate green electricity?
How much will they cost?
And how far away are we from making it happen?
We will discuss all these questions with a panel of experts involved with the search for green energy from the skys.
Emma Gatti, SpaceWatch.Global's Editor-in-Chief, discusses these topics with
The audience will have an opportunity to ask questions.
This Space Cafè Summit "The Quest for Energy from Space" will be conducted in English on 3rd November 2022 at 5pm CET
SpaceWatch.Global is a Europe-based digital magazine and portal for those interested in space and the far-reaching impact of the space sector.
Reserve your place today.