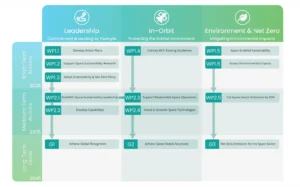 Edinburgh, 6 September 2022. – Space Scotland has just published Space Sustainability, A Roadmap for Scotland, the first strategic document of its kind to work towards a more sustainable Scottish space sector through a series of packages. The Roadmap will put Scotland in a leading role in sustainable spacefaring, enabling the UK to contribute to national Net Zero goals.
The Roadmap was prepared in collaboration with AstroAgency, Optimat and Scottish Enterprise, based on the Environmental Task Force and the Sustainable Space Challenges initiative. International space sustainability experts and UK space sector stakeholders were involved in developing the document. Other environmentally conscious industries in support of Net Zero ambitions also engaged in the project providing transferable examples of practice. 
The Roadmap includes recommendations for the sustainable development of the Scottish space sector, which the Government identified as a key opportunity for future economic growth.
The Roadmap comprises 11 detailed Work Packages in the areas of leadership, in-orbit, environment and Net Zero. It also sets three goals for the space sector to achieve by 2045. These goals focus on sustainability on the ground and in orbit, as well as the reducing emissions.