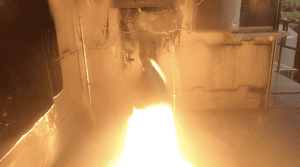 Edinburgh / Long Beach, California, 2 September 2022. – End-to-end space company Rocket Lab has successfully test fired a reused Rutherford first stage engine for the first time, in a significant step towards making the Electron launch vehicle the world's first reusable orbital small rocket, the company said.
The engine was launched to space in May during the There And Back Again mission before being returned to Earth. The recovery mission was Rocket Lab's first attempt of a mid-air capture of Electron's first stage. As the rocket's descent slowed down with the use of parachutes, a helicopter captured the vehicle in the air. 
The full duration, full-thrust test fire of the refurbished Rutherford engine was successful, passing all of the acceptance tests. These include 200 seconds of engine fire and multiple restarts. During the tests, the engine produced a thrust of 21 kN within 1000 milliseconds of ignition. 
Data shows that the reused engine performed to the standard of a newly-built Rutherford engine. The test results will help Rocket Lab with future Rutherford engine development.