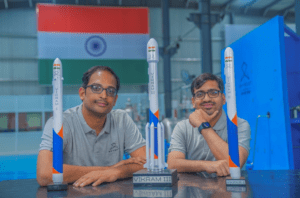 Edinburgh / Hyderabad, 5 September 2022. – Indian space-tech startup Skyroot Aerospace, raised US $51 million during a Series-B funding round led by global investment firm, GIC, Skyroot said. To date, this is the largest funding round in the Indian private space-tech sector.
In addition to monetary investment, GIC India Direct Investment Group's Managing Director, Mayank Rawat, will join Skyroot's Board. The company will use the financing to meet the growing international small satellite market demand. Skyroot said that successful round will help fund all of its initial developmental launches, and build the necessary infrastructure.
The startup has recently validated three propulsion technologies for its Vikram launch vehicles. The Vikram series is built with an all-carbon-fiber structure, capable of launching up to 800 kg into low Earth orbit. In addition, it also completed a full duration test of one of the rocket stages. Skyroot is now planning a launch demonstration later this year.
The firm has successfully built and tested India's first privately developed cryogenic, hypergolic-liquid, and solid fuel-based rocket engines, Skyroot said. The company is also the first startup to sign a Memorandum of Understanding (MoU) with the Indian Space Research Organization (ISRO). The organizations will share facilities and expertise under the MoU.