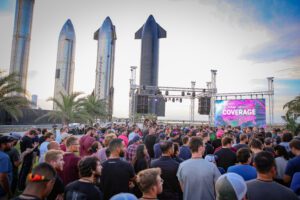 Edinburgh / Starbase, Texas, 26 August 2022. – T-Mobile and SpaceX announced their new plan: Coverage Above and Beyond, to provide near complete coverage in most places in the U.S., even in many remote locations previously unreachable, leveraging SpaceX's Starlink constellation and T-Mobile's wireless network.
Currently, even the most advanced wireless networks leave over 1.3 million sq km of land and vast stretches of ocean uncovered by cell signals. Wireless network providers find it hard to cover these areas due to land-use restrictions and terrain limits. Because of this, people either have no connection at all, or have to pay high rate for a satellite phone.
The new service will work with most smartphones already on T-Mobile's network without having to buy extra equipment. The companies will create a new network that will broadcast from Starlink satellites to provide coverage almost anywhere where the sky is visible. 
Customers will benefit from text coverage in the continental US, Hawaii, parts of Alaska, Puerto Rico and territorial waters, T-Mobile said. The signal will reach outside T-Mobile's network starting with a beta in selected areas by the end of 2023. The companies aim to add voice and data coverage later on as well. SpaceX and T-Mobile's vision is to expand Coverage Above and Beyond globally, with T-Mobile offering reciprocal roaming to providers worldwide.