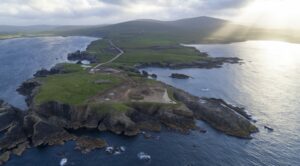 Edinburgh, 26 August 2022. – SaxaVord Spaceport is in talks with the North East Scotland Green Freeport (NESGF) bid partners to create a strategic partnership, under which SaxaVord would become a subzone of the NESGF, the Spaceport said.
The Scottish spaceport will give place to the United Kingdom's first vertical rocket launches in 2023, deploying small satellites into orbit. Aberdeen and Peterhead ports, along with Aberdeen Airport will serve the spaceport and its global clientele. Becoming a freeport would mean that normal tax and customs rules would not apply to the partners.
The NESGF bid is currently under assessment by both the Scottish and UK governments. Peterhead Port has plans for carbon capture and hydrogen production, while Aberdeen Airport has net zero and global export ambitions. SaxaVord aspires to become a green energy exemplar, and therefore it "makes absolute sense to align these aspirations with the NESFG", the Spaceport said.
The bid, if successful, could make the region the Net Zero Capital of Europe, Aberdeen Airport claims. Spaceport operations have the potential of being strategically and commercially significant to the country.