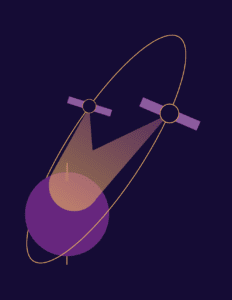 Edinburgh, 20 August 2022. – Strategic space infrastructure developer Space Norway, has signed contracts with Surrey Satellite Technology and Oxford Space Systems, to build a radar satellite system, MicroSAR, optimized for maritime surveillance, capable of detecting relatively small vessels in a very large area, the company said. The first satellite of the constellation is planned to be launched in early 2025 aboard a SpaceX Falcon 9 rocket.
The 300-kilogram MicroSAR satellites will follow polar orbits at an altitude of about 600. The payloads will be developed and built by Norwegian suppliers WideNorth, Eidsvoll Electronics, Kongsberg Seatex and the Norwegian Defence research Establishment. Meanwhile, the satellite buses and the radar antennae will be built in the UK. The MicroSAR Ground System will be established, operated, and owned by Kongsberg Satellite Services.
The current system, AIS (Automatic Identification System), used for maritime surveillance, works based on cooperation. It requires the vessels themselves to send the correct AIS information, with an estimated 5% either not sending any, or transmitting false information. As MicroSAR is equipped with a radar, it will be able to detect these vessels independent of the AIS data.
The MicroSAR system is primarily optimized for Norwegian needs, however, it will also offer maritime surveillance services globally. Applications of the technology include ship traffic surveillance, combating illegal fishing, search and rescue and oil spill detection. Space Norway's main customer is going to be the Norwegian Armed Forces.