This Space Café WebTalk will feature Prof. Dr. Kai-Uwe Schrogl, Special Advisor for Political Affairs in the European Space Agency (ESA), in conversation with Torsten Kriening, publisher of SpaceWatch.Global.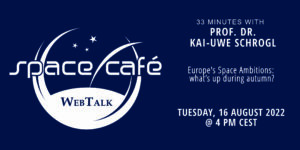 Europe's Space Ambitions – what's up during autumn?
We will talk with Kai-Uwe Schrogl about what we can expect during this autumn. What role will the ESA Council at Ministerial level play in bringing Europe's space ambitions forward? How will the High Level Group on Human and Robotic Space Exploration for Europe change the game in global space exploration? And what else will the next months bring on the European and international scene for space activities and space regulations?
Kai-Uwe Schrogl is the Special Advisor for Political Affairs in ESA at its Headquarters in Paris. Between 2019 and 2021, he was seconded to the German Federal Ministry for Economic Affairs and Energy in Berlin to support the German Presidency of the Council of the European Union. Until 2019, he was the Chief Strategy Officer of ESA. From 2007 to 2011 he was the Director of the European Space Policy Institute (ESPI) in Vienna. Prior to this, he was the Head of the Corporate Development and External Relations Department in the German Aerospace Center (DLR) in Cologne. Kai-Uwe Schrogl is President of the International Institute of Space Law (IISL) and Co-Chair of the Global Future Council on Space of the World Economic Forum (WEF).
The audience will have an opportunity to ask questions in dialogue with Prof. Dr. Kai-Uwe Schrogl.
SpaceWatch.Global is a Europe-based digital magazine and portal for those interested in space and the far-reaching impact of the space sector.
This Space Café WebTalk will be conducted in English on 16 August 2022 at 4 pm CEST.
Reserve your place today.