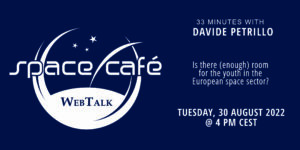 This Space Café WebTalk will feature Davide Petrillo, Executive Director of the Space Generation Advisory Council (SGAC), in conversation with Torsten Kriening, publisher of SpaceWatch.Global.
Is there (enough) room for the youth in the European space sector?
Or we can rephrase it as "Is the space sector ready to hand over to the next generation?". Davide will discuss that topic with Torsten in light of the upcoming 20th Space Generation Congress in September in Paris.
Davide has currently been appointed as Executive Director of the SGAC. Davide holds a M.Sc. in Aerospace Engineering from the University of Padova (Italy). His professional experience brought him to London (UK) as a Business Manager for Alten Ltd and previously in Milano (Italy) as a Business Analyst for Accenture, global management consulting company that provides strategy, consulting, technology and operations services. Previously, he was the Team Leader of FELDs Experiment selected by the European Space Agency (ESA) for the Drop Your Thesis! 2014 programme. FELDs tested a tethered electromagnetic soft docking technology in microgravity conditions at the Drop Tower of the Centre of Applied Space Technology and Microgravity (ZARM) in Bremen, Germany. Moreover, since October 2021, Davide has been elected as Vice President for Education and Workforce Development of the International Astronautical Federation (IAF).
The Space Generation Advisory Council in Support of the United Nations Programme on Space Applications is a global non-governmental, non-profit (US 501(c)3) organisation and network which aims to represent university students and young space professionals ages 18-35 to the United Nations, space agencies, industry, and academia. The SGAC network of members, volunteers and alumni has grown to more than 16,000 members representing more than 165 countries.
The Space Generation Congress (SGC) is SGAC's annual meeting in support of the United Nations (UN) Programme on Space Applications. Top university students and young professionals with a passion for space will travel from all around the globe to attend three days of the 20th SGC. Up to 150 delegates will enjoy an inspiring and resourceful engagement with their peers at the congress, held in Paris, on September 14-16 2022, prior to the 73rd International Astronautical Congress (IAC). Delegates will gain exposure to perspectives on space issues from the world's leading space organisations, including: the International Astronautical Federation (IAF), National Aeronautics and Space Administration (NASA), and the United Nations Committee on the Peaceful Uses of Outer Space (UN COPUOS). In demonstrating the symbiotic relationship, leaders from these space organisations gained fresh, innovative and bold perspectives from the incoming space generation.
The audience will have an opportunity to ask questions in dialogue with Davide Petrillo.
SpaceWatch.Global is a Europe-based digital magazine and portal for those interested in space and the far-reaching impact of the space sector.
This Space Café WebTalk will be conducted in English on 30 August 2022 at 4 pm CEST.
Reserve your place today.