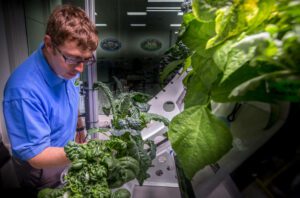 Edinburgh / Jacksonville, Florida 18 August 2022. – Space infrastructure company Redwire Corporation will develop the only commercially owned and operated spaceflight-qualified plant growth platform in space, the so called Redwire Greenhouse, the company said. The platform is expected to launch to the ISS in spring 2023. 
Redwire Greenhouse will not only deliver valuable insights for crop scientists but will also expand our ability to grow full crops in space. Growing plants in space is key for future long-duration space exploration missions as they provide food, oxygen and water reclamation.
Redwire Greenhouse will provide a simple, scalable commercial crop science solution while also providing accessibility to institutional and commercial customers with various goals. The in-space demonstration of 2023 will validate the concept of operations and evaluate lighting, ventilation and leaf litter containment capabilities.
Dewey Scientific, a commercial agricultural technology company is going to be Redwire's customer for the inaugural flight. During the mission, Dewey will grow industrial hemp in space for a gene expression study. 
The Redwire Greenhouse will leverage the company's flight-qualified plant growth technology, including Passive Orbital Nutrient Delivery System devices. The Greenhouse is being developed with the help of an award from the Center for the Advancement of Science in Space.