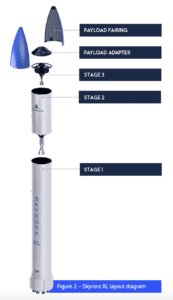 Edinburgh, 18 August 2022. – Skyrora has successfully completed the static fire test of the second stage of its Skyrora XL orbital rocket, hosted by Discover Space UK at Machrihanish Airbase. This test takes the company one step closer to entering commercial operations planned to start in 2023 from the SaxaVord Space Centre, Skyrora said. This was the biggest UK-based integrated stage test since Black Arrow and Blue Streak in the 1970s.
Discover  Space  UK at Machrihanish  Airbase  in  Scotland  is a former military base. The airstrip was a designated emergency landing site during NASA's space shuttle era.
During the test, the second stage engine was hot fired to demonstrate operational capability and the meeting of all design requirements. All systems were nominal throughout the 20-second burn as the engine performed within design margins and achieved the expected thrust. 
Once operational, the second stage of Skyrora XL will start its 70 kN liquid engine at an altitude of 62 km. The company tested the third stage of its launch vehicle in 2020, while the first stage is expected to be tested in mid-2023. The successful second stage static fire test was supported by the UK Space Agency and European Space Agency.