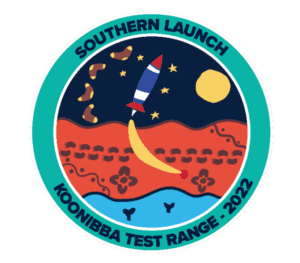 Edinburgh / Koonibba, 25 August 2022. – Local Koonibba artist, Kevina Ware, has designed the mission patch for the next rocket launch mission from Southern Launch's Koonibba Test Range which is due to launch in the coming weeks, Southern Launch said. 
Launch services company, Southern Launch commissioned Ware as part of their ongoing relationship with the Koonibba Community Aboriginal Corporation. The artwork will be used on the Koonibba General Store's merchandise, which will also be available through Southern Launch's website. All profits will go back to the Koonibba Community, one of South Australia's oldest mission-founded Aboriginal communities.
"This design depicts the two forms of defence, from traditional to modern day – being the boomerang and the rocket," Ware said. "The footprints represent the aboriginal people that have walked through this country – from the land to the sea for thousands of years. and the camps are where the people now reside in the area," she continued. 
Southern Launch said that the Koonibba Community has been instrumental in developing the Koonibba Test Range, Australia's first licensed space launch site. The company will aim to commission local artists to design mission patches as often as possible. On the other hand, the Test Range provides employment and increased investment opportunities for the community during launch campaigns.