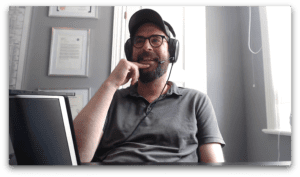 SpaceWatch.Global is pleased to present: The Space Café Podcast #058 – Erik Wernquist, the man behind the space video hit "Wanderers" on YouTube
Episode 058 features a special guest: Erik Wernquist.
When he uploaded his 3:51 minute vision of humanity in space to Youtube, Erik didn't realize the way it would change his life and, according to the comments, the lives of many others. In the latest edition of the Space Cafe Podcast, Erik talks candidly about the aftermath, why he doesn't think humans should settle permanently on Mars, why Cassini still brings tears to his eyes, and why he proposed Carbon Based Lifeforms' track 42 as the first entry into the brand new Space Cafe Podcast Guest Tunes playlist.
Youtube: Wanderers 
Space Cafe Podcast Guest Tunes
The Space Cafe Podcast brings our signature brand of engaging and relevant content from across the global space economy to you via an exciting new format. Together with award-winning Executive Producer, Markus Mooslechner (Terra Mater Factual Studios), our fortnightly podcast features guests that matter.
Each episode includes a review of important topics, as well as guest appearances and deep commentary from expert panellists from across the space sector.
Thanks to our global distribution partner, BookWire, the podcast is available on all major podcast platforms.