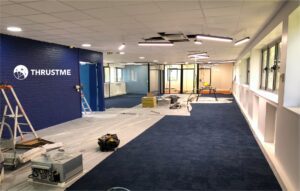 Aarhus, 6 July 2022. – In-orbit mobility solutions provider, ThrustMe, is renovating a 900-square-meter building in an industrial zone in the southern outskirt of Paris to turn it into a smart manufacturing site supporting high volume production of its propulsion systems, the company said. 
The premises will accommodate a new production line and an increased number of employees. The new facility will be capable of producing 365 of ThrustMe's iodine-propellant based electric propulsion system annually.
The era of satellite constellations has brought along fundamental changes in satellite manufacturing, launching and operations. ThrustMe will proceed with rapid industrialization of its mainstream products, setting up a production line combining classical space approach with lean manufacturing to meet market demands.
ThrustMe currently has five propulsion systems operating successfully in space and has further orders from constellation customers.