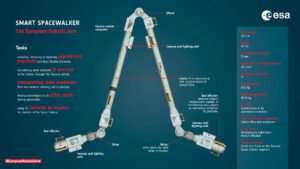 Budapest, 22 July 2022. – ESA's Samantha Cristoforetti became the first European female spacewalker when she went outside the International Space Station (ISS) with Russian cosmonaut, Oleg Artemyev, to complete a seven-hour mission working on the space station.
Works carried out by the pair included installing platforms and workstation adapter hardware to the Nauka laboratory module. They also hand deployed 10 nanosatellites to gather radio electronics data. Cristoforetti and Artemyev prepared the 11.3-meter long European Robotic Arm for operational use as well. The astronaut-cosmonaut duo completed their EVA (extravehicular activity) wearing Russian-built Orlan spacesuits. The Russian-operated spacewalk was the sixth for Artemyev and it was also the sixth EVA at the ISS this year.
The two started the mission 50 minutes late, nonetheless, they were still able to complete all but one planned activity. The extension of the Strela telescoping boom from the Zarya service module to the Poisk research module had to be postponed. Mission termination was necessary because of spacesuit life support system constraints.
Cristoforetti is the second woman to conduct a Russian spacewalk, after NASA astronaut Peggy Whitson. She also made history recently by using TikTok on the ISS for the first time.