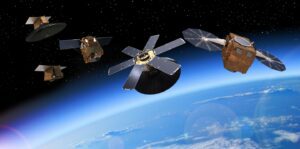 Budapest, 21 July 2022. – Australia selected Airbus as the strategic partner for Defence's Resilient Multi-mission Space STaR Shot, a strategic research program established to develop future space capabilities for the Australian Defence Force (ADF), Australia's Defence said.
Satellite developer and integrator, Airbus Defence and Space, was chosen by a panel of experts from Defence and the Australian Space Agency. The company will work jointly with Defence on ensuring Australian war fighters' assured and resilient access to satellite services.
Airbus will be supported by three Australian industry partners: Inovor Technologies, Shoal Group and Deloitte. Academic partners and Australian small-to-medium enterprises will also contribute to the fulfilment of the program.
Two experimental satellite missions are already in the planning phase and  Defence has already purchased two Airbus Arrow 150 satellite buses. The AU 20-million-dollar satellite buses will be integrated with Australian-developed payloads and technologies.
The Airbus partnership means an investment of over AU $40 million in satellite technologies.