By Dr. Emma Gatti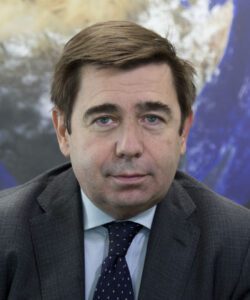 In the third episode of Space Café Italy Dr. Emma Gatti is in conversation with Massimo Claudio Comparini, the CEO of Thales Alenia Space Italy, a global space manufacturing company that has been providing high-tech solutions for Telecommunications, Navigation, Earth Observation, environmental management, scientific research and orbital infrastructure for more than four decades. Together they discussed about the next challenges for the space sector in Italy, and why space matters.
Space For Earth
Space can do great things for our planet. I don't know if we will ever be a multi-planetary species, however, I do know for certain that we have a priority today to defend the only home we have, Earth. Since the 1980s, an awareness of what space technologies can do for all of us in our daily lives has radically changed. The components of exploration are also changing: we imagine returning to the Moon to make it a laboratory for space exploration and a jumping off point to more distant destinations. The impact of Space is broader and more popularised than in the past.
Made in Space
Evolving technologies and new business models developed after 20 years of experience with the ISS, have begun to delineate the possibility of commercial exploitation of orbital stations, and Thales Alenia Space has been selected by Axiom to help build the first commercial orbital station that will break away from the ISS when it will be decommissioned. This is the new frontier of 'Made in Space': an independent environment that can allow both industries and research entities to operate in microgravity and develop new patents and applied research in manufacturing, biotech and medicine (new fibres, 3d printing, new molecules and organs and so on). All this opens up a world of applied research that until recently was exclusively pure research, and makes this sector a possible area for commercial development, as operating in low gravity can accelerate the conception of new solutions.
This is the new frontier of the Made in Space: an independent environment that can allow both industries and research entities to operate in micro gravity and develop new patents and applied research in manufacturing, biotech and medicine.
Space Made in Italy
Traditionally, Italy is an important country in the space domain. It covers the entire value chain of a space mission, from conception to realization of the flight component, to on-orbit operations, to services related to space assets. Italy plays a key role in the Copernicus mission, a very important project to generate the data from space needed to study Earth and better predict the effects and remedies to climate change. We are also important in satellite navigation: we are very happy that we brought back to Italy the development of the second-generation Galileo satellites. If we put together the different pieces of space policy, ASI, ESA and the investment that the country is envisioning in the recovery plan, we have an important amount of investment that must serve to consolidate the country's positioning. This extends to small and medium businesses as well. We at Thales Alenia Space traditionally are prime contractors, but we also work with small and medium-sized startups and regional companies to help a homogeneous development of the entire sector.
Can Space be sustainable?
Space technologies that generate data for Earth observation make a very important contribution to monitoring our planet. Nonetheless, we first need to be sustainable as an industry; we need to reduce the risk of fragmentation of a satellite at the end of its life, as the generation of uncontrolled space debris can make certain orbits unusable. We cannot recreate in space the malpractice we have seen on Earth. This means dealing with how to build sustainably, how to use technologies to lower the carbon footprint, and how to create more sustainable structures related to the space environment.
Massimo Claudio Comparini is the Deputy CEO, Senior Executive Vice President Observation, Exploration and Navigation of Thales Alenia Space and CEO of Thales Alenia Space Italia. Former CEO at eGeos and, since 2016, Director Line of Business Geo-Information at Telespazio, he has a long and proven track record in space industry, from technology to services, and in the earth observation domain. He is also a member of the Advisory Board of the Centre for Advanced Studies, Research and Development in Sardinia (CSR4).